To cut or not to cut one's hair has been the infamous question all women have dealt with. Whether the choice comes easy to you or not, that's okay. The CGS team shares a few pointers to help you weigh the odds of cutting your locks or keeping it long. If you have your heart set on a certain length, then go for it! However, if you are still deciding what you want, continue reading.
Should you cut your hair?
Understanding What Cut Means
Cutting your hair has different meanings to everyone. Trims, chops, or layers can be implied when taking the cut plunge. Usually when people hear haircut, they are thinking of a major chop. It's quite normal for people to get a cut and only trim off an inch or two.
Determining the length of your hair's current measurement and how short you want to cut is important when you decide to take that step. It's always helpful to have a realistic image in mind when choosing to cut your hair. Bringing in a picture of how you want to cut your hair will give a visual to the stylist.
Find Your Face Shape
Believe it or not but everyone's face shape is different. While some face shapes are more noticeable, others may take time to determine. Face shapes include heart, round, oval, square and triangle (sometimes referred to as diamond). Check out the picture below for examples of each.
Choosing a hairstyle for your face shape is an important factor when deciding to cut your hair or not. Some cuts look better on specific face shapes compared to others. For example, heart and square face shapes look better with normal bangs, while long and round face shapes look better with side-swept bangs. Try getting a replica wig of how you would want to cut your hair to see if you like the change. This can help you minimize the chances of not liking the actual cut.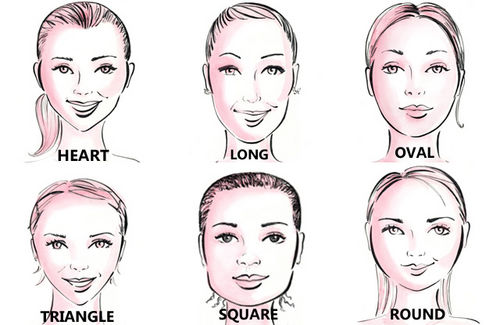 The Cut That Flatters Everyone
Did you know that "shoulder-length" is one of the most searched haircut terms on Pinterest? That's because the LOB (long bob) that naturally grazes one's collarbone has become extremely popular. While super long and super short hair have had their stay, it's time for shoulder-length hair to have a turn!
Not only does this length allow you to wear it up or down, but you can also style it straight, with waves, side-parted, or even with bangs! What else is great about this cut is that it can be worn with every hair texture! It helps maintain volume in fine, straight hair, but is also long enough to keep from being too puffed out for curly hair. Here are some of our favorite celebs rocking the shoulder-length LOB! 

Cutting your hair should be a fun experience, even if it's only a trim! Have you cut your hair lately? Upload a photo of your recent chop to the CGS Activity Feed! Is there a certain cut you want to try but can't seem to muster the courage? Are you working to grow long locks? Share your thoughts by leaving a comment below. We love hearing from you!
-The CGS Team