Purchasing a home is one of the biggest financial decisions a person can make. Whether you take out a 15 or 30-year loan, paying for such a large asset is a big deal! The CGS Team has put together a quick-hit home buyer's checklist to help you during the beginning, middle, and end stages of the home-owning process. Check out the infographic directly below. We also expand more on each section below the picture.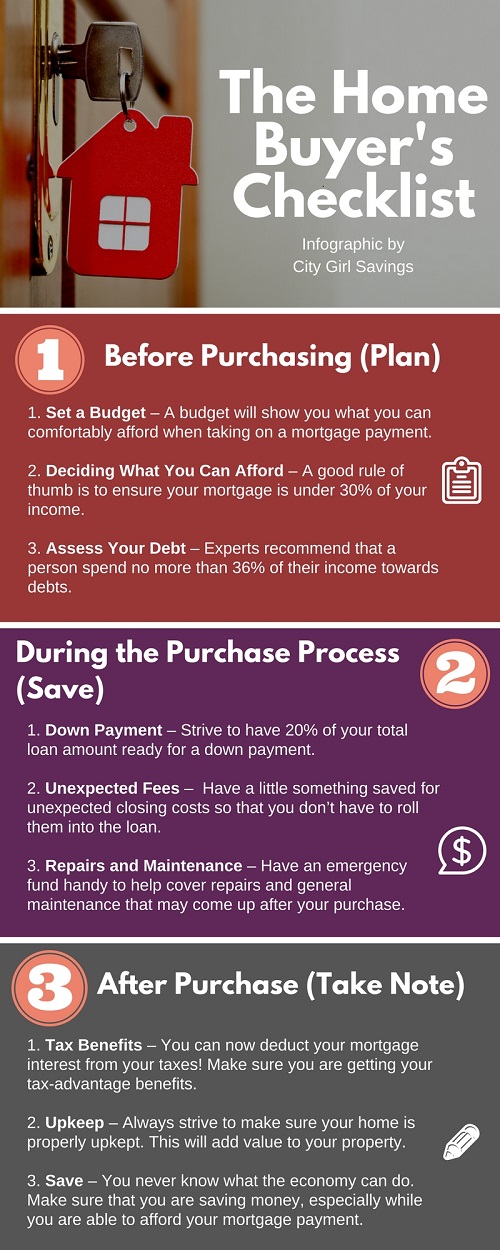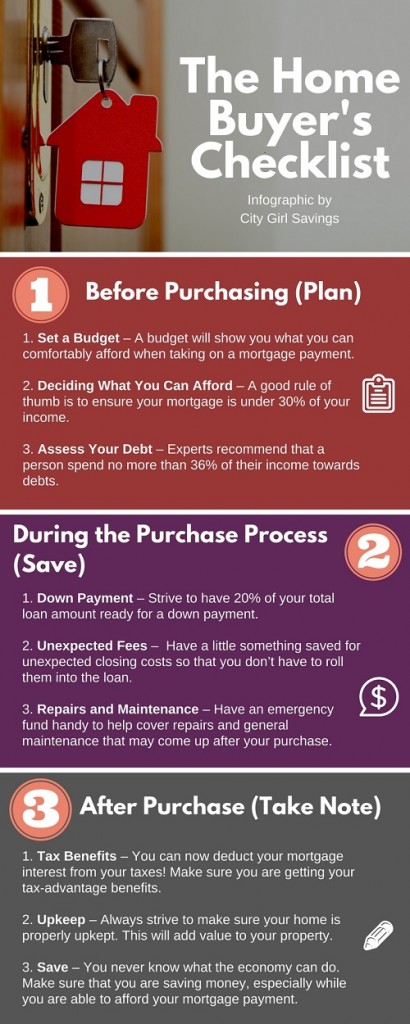 Before Purchasing (Plan)
Set a Budget – A budget will show you what you can comfortably afford when taking on a mortgage payment. Make sure your budget includes your income, expenses, debts and savings.

Deciding What You Can Afford – When beginning the loan process, it's important to understand what you can comfortably afford, not what you are approved for. A good rule of thumb is to ensure your mortgage is under 30% of your income.

Take whatever you make each month, before taxes, and multiply that by 30%. That's how much you can afford in a mortgage payment (includes taxes, insurance, and PMI).

Assess Your Debt – Experts recommend that a person spend no more than 36% of their income towards debts. This includes debts you currently have (car loan, credit cards, etc.) and the new mortgage payment.

Take the total amount of your monthly debts (including the estimated mortgage payment) and divide that by whatever you make each month, before taxes. That will give you your current debt-to-income ratio.
During the Purchase Process (Save)
Down Payment – Strive to have 20% of your total loan amount ready for a down payment. This will allow you to avoid a monthly PMI payment. You don't have to have 20% for a down payment, though. FHA may approve certain individuals with a down payment as low as 3%

Savings for Unexpected Fees – A mortgage typically comes with fees that may not have been originally included. Closing costs, moving expenses, and paying for interest points to name a few. It's important to have a little something saved for these unexpected costs so that you don't have to roll them into the loan.

Repairs and Maintenance – Homes are a lot of responsibility, and there's no landlord to help cover repairs. You're the landlord now! Have an emergency fund handy to help cover repairs and general maintenance items that may come up after your purchase.
After the Purchase Process (Take Note)
Tax Benefits – You can now deduct your mortgage interest from your taxes! Talk to a tax professional to make sure you are getting your tax-advantage benefits.

Upkeep – Always strive to make sure your home is properly upkept. It's your home now, so you have free reign to revamp as needed. This will add value to your home, in the instance you want to sell and move somewhere else.

Save – You never know what the economy can do. Make sure that you are saving money, especially while you are comfortably able to afford your mortgage payment. Your home could lose equity in the future, so it's best to be prepared.
Congratulations on being in a position to make and plan for such a big financial decision! Keep this checklist in mind as you go through the process. You can put yourself in a position to succeed! Be sure to read Saving for Your First Home for tips on the saving portion! What tips and experiences can you share for someone who is purchasing their first home? What are you worried about with the purchase? Comment below with your questions and tips!
-The CGS Team