Daniella's Finance Journey outlines the financial experiences that CGS member @daniellacoin is going through as she works with the CGS Financial Consultant to get on financial track. Daniella has graciously offered to share her journey to help inspire and motivate others to take control of their financial lives!
Daniella's Share:
Hi CGS Community!
This is bittersweet for me. I really grew to love talking with you all the past few months. It was a struggle to open up every week and tell you the truth about getting your finances in order. There are so many emotions that come with being vulnerable on the internet. I did not always succeed. I FAILED at the spending fast and I had to be truthful and tell you all that. I tried to be positive when there were so many times where I had $40 to last me a week or more and It was STRESSFUL. You all watched me learn to say no, you watched me get on a receipt tracking schedule. (I still need growth in that area.) You watched me curb my shopping drastically. The experience of talking to someone on a weekly basis coupled with living on my own for the first time really made me confront a lot of things about me, and my personality. This is one of the most important things I have done in my adult life. It is strangely emotional for me to try to summarize one of the most important things I've done for myself with CGS. I really can say that I achieved one of my 2017 goals of becoming a financially responsible adult.
I saw this site being advertised on LinkedIn a few times and decided to check it out. After having a consultation with Raya, I knew I was going to work with CGS because it was exactly what I needed to fix my life. I tried to use apps like Mint to manage my budget but I couldn't connect with it. At that time my spending habits were to use every dollar until I had no more dollars. I had a bunch of maxed out credit cards, I just moved into my own apartment and saw that my lifestyle was not going to work if I wanted to be able to remain on my own.
When Raya met me my finances were a mess. I remember fighting with her about autopay because I was convinced that I wouldn't be able to keep money in my account for them to take it out automatically. I also remember Raya having to uncomfortably tell me that my payment didn't go through for CGS. I was in such a mess that I couldn't even afford $33. (Imagine how it feels months later to have my own down payment for a car without my parents' help!)
I would like to mention that during this time, I got the opportunity to meet her in person and Raya is the sweetest person! She was so kind, her teeth are perfect, and I am glad I made a friend thought this experience.
Now almost a year later I have less credit cards, and I actually pay some bills automatically. You can see my client success story to get the mechanics of how I improved, but if you read along with me you would know I did a lot of growing up my first year living alone. I still have so much that I want to accomplish but I am glad that finances and understanding my finances will no longer hold me back. I am fortunate to be in a position to pay all of my bills with some left over. However, I am fortunate that I can manage the leftover a little better rather than blindly spending the money and waiting until the next pay check. (It still happens but not as much!)
I asked Raya if I could write the blog because we were looking for a way that could possible help me engage so I could curb my impulses to emotionally shop. While I overthink myself a lot I will say that I truly enjoy opening up and talking about what I feel. So while I am unfortunately ending my Finance Journey Blog on City Girl Savings, I will still be blogging! Raya is graciously allowing me to tell you all about my blog www.DaniellaCoin.com. I want to talk about things like what I buy (and how much of a sale it was), books I'm reading, and thoughts and experiences on being a new adult. I just want to offer my two cents on everything. I will still be around the CGS family and Dallas people I am now mobile so we should meet in a public location with good lighting and no white vans!
It has been weird, exhausting, fun and liberating.
Most of all it has been real.
Thank you so much CGS Community.
Comment below and tell me whatever you want! I want to chat!
xoxo
Daniella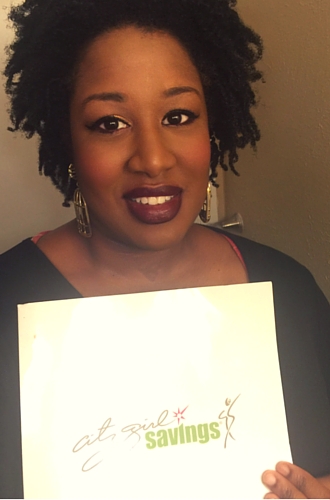 About Daniella…
Daniella is a 25 year old working millennial living in Dallas, TX. Daniella is originally from New York and has moved to Dallas to start a life of adulthood on her own. She currently works as an administrative assistant and has a passion for make-up! Feel free to leave a comment with any thoughts or questions for Daniella.