As Ke$ha said, "Can't gnore me in my red lipstick." Red lipstick is one of the sexiest colors on any woman; so much so that songs have been created about it.
Well, celebrities aren't the only ones who can pull off the red lip trend. The CGS Team is going to give you a tutorial on how to create the perfect red lip.
The perfect red lip
Step 1: Finding the Right Product
The first step to creating the perfect red lip is to find the shade that best suites you. "Red" lipstick can range from orangey-red to dark wine. We recommend a bright red for the most pop of color. If you have fair skin, look for cranberry shades to highlight your skin tone.
Tom Ford's Lip Lacquer is perfect for fair skin. For medium skin tones, fiery reds like Dolce & Gabbana's Classic Cream Lipstick in Devil provides extremely vivid color. For darker complexions, we suggest raspberry reds.
The slightly pink undertone complements darker skins tones effortlessly. Revlon's Super Lustrous Lipstick in Raspberry Bite is perfect.
Once you have found the right shade for you, try your best to find a lip liner that is as close to your red lipstick as possible. This is important when creating your red lip look.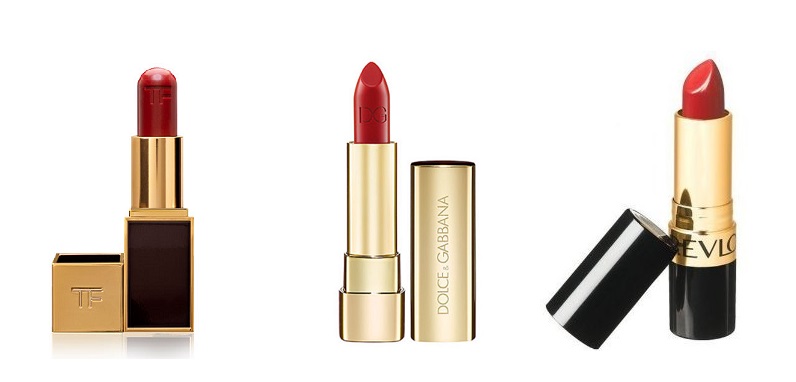 Left to Right: Tom Ford Lip and Cheek Stain in Tainted Love, Dolce & Gabbana Classic Cream Lipstick in Devil, Revlon Super Lustrous Lipstick in Raspberry Bite
Step 2: Prep Your Lips
Once you have the right shade of lipstick and lip liner, you are now ready to apply. Start by moisturizing your lips with a clear lip balm and wiping any dry skin off of your lips for a smooth and even color.
If the dry skin on your lips is hard to get rid of, you may need to exfoliate your lips with a product such as e.l.f Studio Lip Exfoliator. Dry or cracked lips don't hold color as well as moisturized lips. Remove any excess lip balm for a better application.
Step 3: Apply your Liner
After you have moisturized your lips, take your sharpened lip liner and trace the outlines of your lips. Ensure that you follow your natural lip line.
Once you have finished tracing, fill in the rest of your lips with the liner. Using lip liner is essential in making sure your lipstick color doesn't fade. Lip liner can also help prevent your lipstick from bleeding.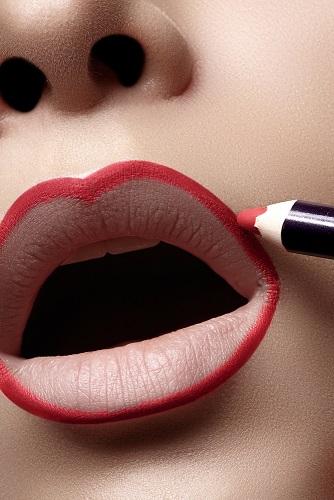 Step 4: Apply your Lipstick
We recommend using a lipstick brush for better control. Start on the bottom lip and apply your color from the middle out.
You want to evenly apply from the middle to the left and then from the middle to the right. Repeat this step on your top lip. Blot your lips to press in the lipstick.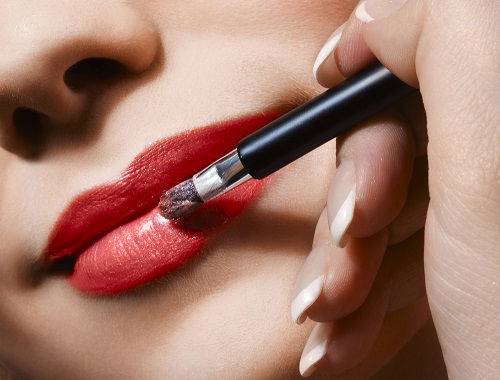 Step 5: Clean Up
In an extra step to prevent lip bleeding, take an angled eyeliner brush and dip it in foundation powder. Lightly trace the foundation powder below your bottom lip line. Make sure you blend in any excess powder!
Smile and remove any excess lipstick that may have gotten on your teeth.
Step 6: Flaunt Your Pout
Pucker up and rock your red lips with confidence!
Related: Nailing the Perfect Red Lipstick
Red lips can take your make-up look to the next level!
What is your favorite shade of red? Do you have any tricks when applying red lipstick? Share your comments, feedback or questions with the community by leaving a comment below! We would love to hear how you rock the perfect red lip!
-The CGS Team