The holidays are right around the corner, and that means major sales on the things you need to stock up on! If your make-up brushes look like they are hanging on by a limb, this may be the best time of the year to find a new set. The CGS Team is sharing our picks for make-up brush sets that are out and available for sale now. See something you like? Keep an eye on it as Black Friday approaches, you may be able to snag the set for a cheaper price!
Make-up Brush Sets
Morphe Travel Brush Set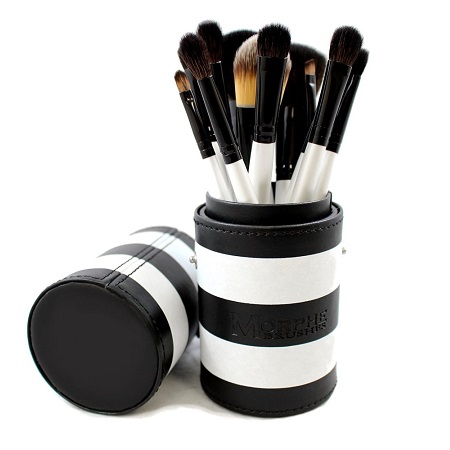 If you dread packing up your make-up brushes each time you travel, the 12-piece Morphe Black and White Travel Brush Set is for you!  This on-the-go set comes with a Powder Brush, Blush Brush, Flat Foundation Brush, Angled Shadow Brush, Flat Shadow Fluff Brush, Blender Brush, Chubby Shadow Brush, Blender Fluff, Concealer Brush, Detail Shadow Fluff Lip Brush, and Angle Liner Brush. The best part is that it comes in a cute, easy-to-pack case!
Sephora Collection Antibacterial Brush Set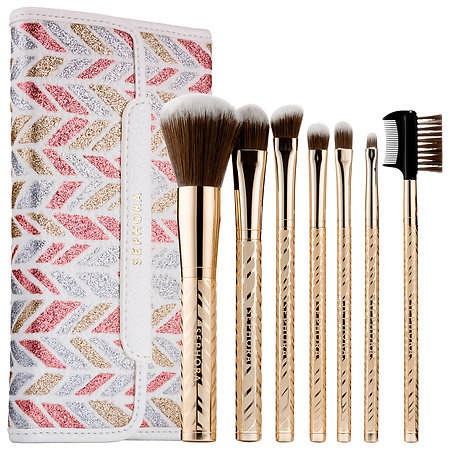 The Sephora Collection Sparkle & Shine Antibacterial Brush Set comes with everything you need to create a full-face look, and the fibers on the brushes are hypoallergenic and antibacterial! The set is perfect for people with sensitive skin and features a Powder Brush, Small Foundation Brush, Angled Shadow Brush, Eye Shadow Brush, Flat Eyeliner Brush, Concealer Brush, and Brow Comb. The set is plated in gold and comes with a glitter pouch.
MOTD Cosmetics Lux Vegan Eye Makeup Brush Set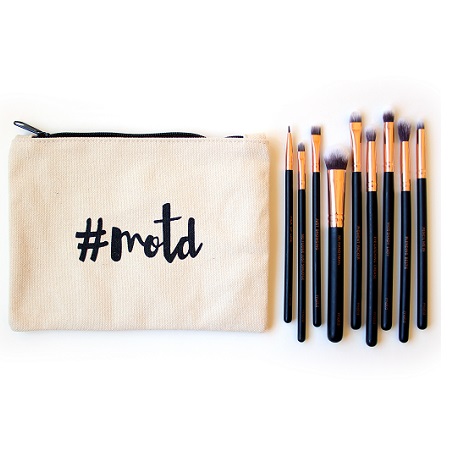 The Lux Vegan Eye Makeup Brush Set from MOTD Cosmetics comes with 9 brushes perfect for achieving any eye makeup look. The brushes are made from cruelty-free, vegan, and antibacterial Taklon, making them ideal for people with sensitive eyes. The brushes are compatible with any make-up formula and come in an adorable #MOTD travel bag.
Bobbi Brown Basic Brush Collection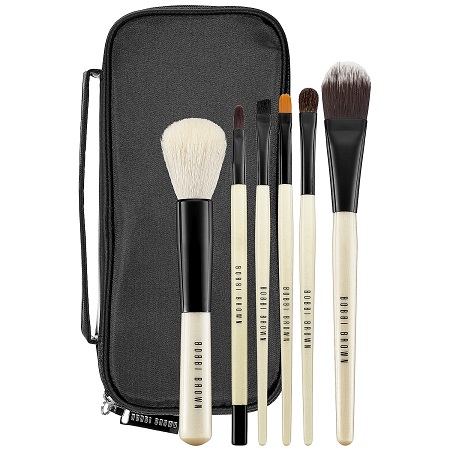 If you are looking for a long-term investment in a make-up brush set, then we recommend the Bobbi Brown Basic Brush Collection. The brushes may seem basic, but they are essential in their form. They are very state-of-the art tools made for applying your make-up like a pro with extreme precision. The six-piece set comes with an Eyebrow Brush, Foundation brush, Face blender brush, Concealer brush, Eye shadow brush, Eye liner brush, and accompanying case. Everything you need to create a flawless face!
Related: Understanding Your Makeup Brushes
Don't miss the opportunity to snag a great make-up brush set this holiday season! Which make-up brush sets have you tried? Is there a set that you cherish above the rest? We want to hear what make-up products the community and CGS readers recommend, so leave a comment below to share your make-up brush favorites!
-The CGS Team