How amazing is Julianne Hough's pumped-up ponytail?!
Who doesn't love hair that's full of volume? Especially when it's in a ponytail! Take a cue from Snooki, although not that extreme, and pump up your ponytail. The CGS Team is providing the simple steps to nail your ponytail. Whether you want it high or low, pumping it up will add a very nice twist!
How to create a pumped-up ponytail at home
Step #1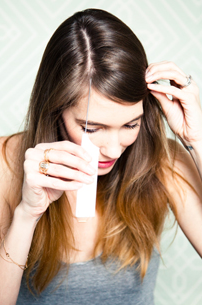 Start by parting your hair.
Step #2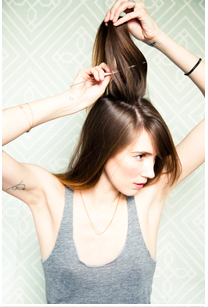 Now the teasing process comes in. Teasing helps pump your hair up giving it a volumized look. Starting at the middle of the top of your head, grab a thin section of hair, as pictured. Using a fine tooth comb, quickly brush that portion of hair up and down until it is "teased". 
Depending on how much hair you originally grabbed, you may need to repeat this step. Please note the curlier the hair, the less teasing will be needed. Spray the teased section with hairspray and let it down gently.
Step #3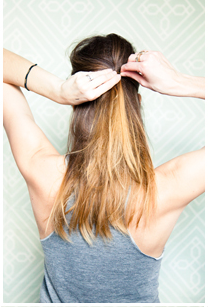 Take a bobby pin and use it to pin your hair in the desired position. If you want more volume, push the bottom of the volumized piece up higher.
Step #4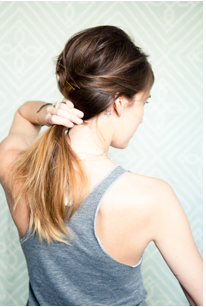 Now it's time to form your ponytail. If you prefer a lower ponytail, grab your hair and pull it down towards your neck, making sure you don't flatten the teased section. If you prefer a higher ponytail, grab your hair and raise it just below the poof. Once your ponytail is in the position that you like, place a hair tie around your ponytail securing your hair place.
Step #5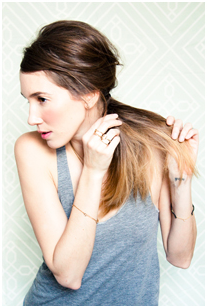 After your ponytail is secure, give more volume to the tail by piecing it out with your fingers.
Related: 4 Tricks for Instant Volume
This chic hairstyle can be finished in an instant and can easily dress up your look! Have you ever worn a pumped up ponytail? What tips can you share with the community about nailing this look? Leave a comment below to share!
-The CGS Team