There's nothing more enjoyable than a spa day full of manicures and pedicures! However, the consistent trips to the nail salon easily add up and can quickly make you go over your budget. Just because you can't go to the nail salon on a consistent basis doesn't mean you can't have your nails on point! Today, the CGS Team is showing you how to create the paint splatter nail design; no manicurist needed!
This inspiring look came from the popular nail art YouTuber Catherine Rodgers. Catherine started the Totally Cool Nails channel which features hundreds of nail designs and how to do them. The paint splatter look is one of our favorites, so we had to share!
Paint splatter nails at home
What You'll Need
Before we begin, you will need a few items:
1. White, yellow, pink, and blue nail polish colors (you can always change colors to meet your preference)
2. Nail art brush
3. Nail polish thinner
4. Nail polish remover
5. Q-Tips
6. Top Coat
Step #1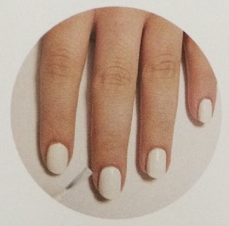 Start by painting your nails with the white nail polish of your choice.
Step #2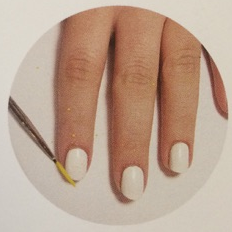 Place a paper towel on a steady surface (think table, desk or counter) under your hand. Then mix the yellow polish with nail polish thinner or water (if you are using acrylic paint). Dip your brush into the yellow mixture and tap the brush on the table, close to your nail, so that the paint splatters onto the nail.
Step #3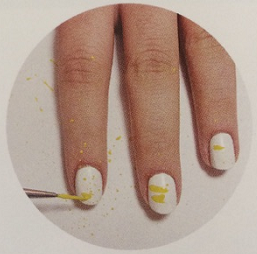 For larger spots, dab the color on using the nail art brush.
Step #4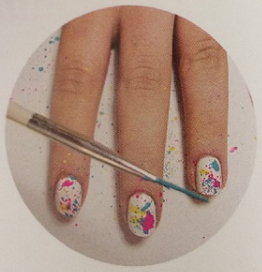 Repeat steps 2 & 3 using the pink and blue nail polish colors.
Step #5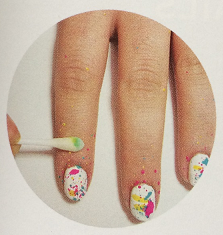 Using a Q-tip dipped in nail polish remover, remove any excess nail polish that may have landed on your skin.
Step #6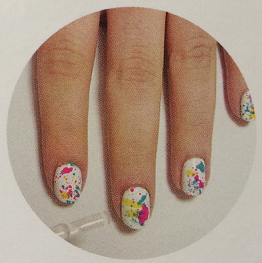 Lastly, apply a top coat to your finished nails to seal the design.
Related: Beauty How-Tos: Nautical Nails
How easy is that?! A cute nail design that can be completed in a matter of minutes will save you so much time and money at the salon! Sure, you are always entitled to your spa days, but there are other alternatives when you are trying to stay within your budget! What do you think of the paint splatter nail design? Have you tried it before and if so, what steps did you take? Share your comments and nail pictures with us by leaving a comment below!
-The CGS Team