Long days and warm nights are quickly coming this way. As summer approaches, enjoying beautiful sunsets with a drink in hand sounds amazing. Break out of the usual wine routine with a delicious cocktail that makes the most of the flavors of summer. Check out a few tasty summer cocktails to try this summer season. These cocktails have fresh ingredients and easy-to-follow recipes.
Coconut Margarita
Put a summertime twist on the classic margarita by adding fresh coconut. This margarita is best served on the rocks. Recipe by Foodie Crush.
Ingredients (2 drinks):
1½ ounces of tequila
½ ounce of cointreau
1 ounce of coconut cream
1 ounce of coconut milk
½ ounce of fresh lime juice
Splash of half and half
Splash of simple syrup (1/2 cup sugar, ½ cup water brought to a boil until sugar dissolved, then cooled.)
lime wedges for garnish
Directions:
Shake and strain into a glass and serve on the rocks with a lime wedge.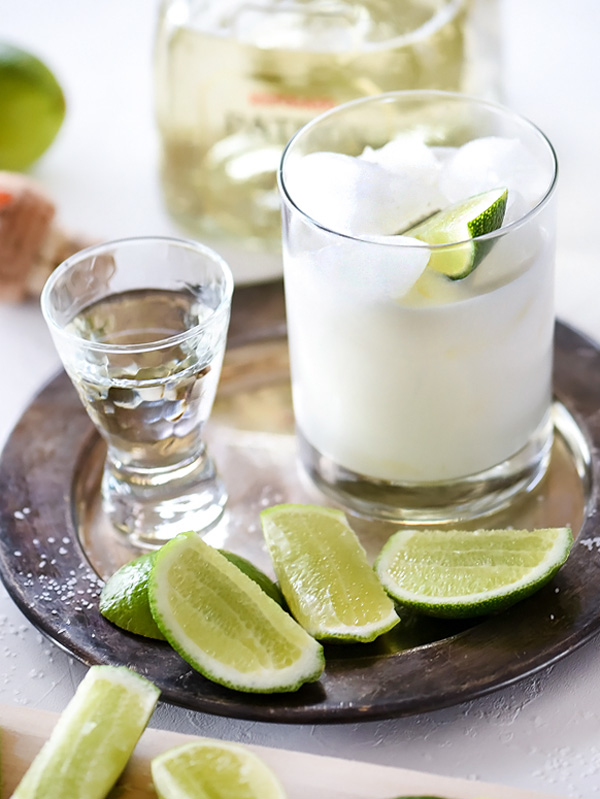 Kiwi Mai Tai
Nothing says summer more than a Mai Tai, expect and Mai Tai with Kiwi in it! Check out this twist on the classic Mai Tai courtesy of The Chic Site.
Ingredients (1 drink):
3 ounces of pineapple juice
2 ounces of kiwi or kiwi blend juice
1 ½ ounces of dark spiced rum
1 ½ ounces of coconut-flavored rum
1 teaspoon of grenadine syrup
ice
fresh pineapple, kiwi and maraschino cherries for garnish
Directions:
Fill a tall cocktail glass with ice. Pour each of the ingredients in layers, starting with the pineapple juice and kiwi juice. Then the light rum, dark rum and grenadine. Garnish with pineapple slices, kiwi slices and cherries.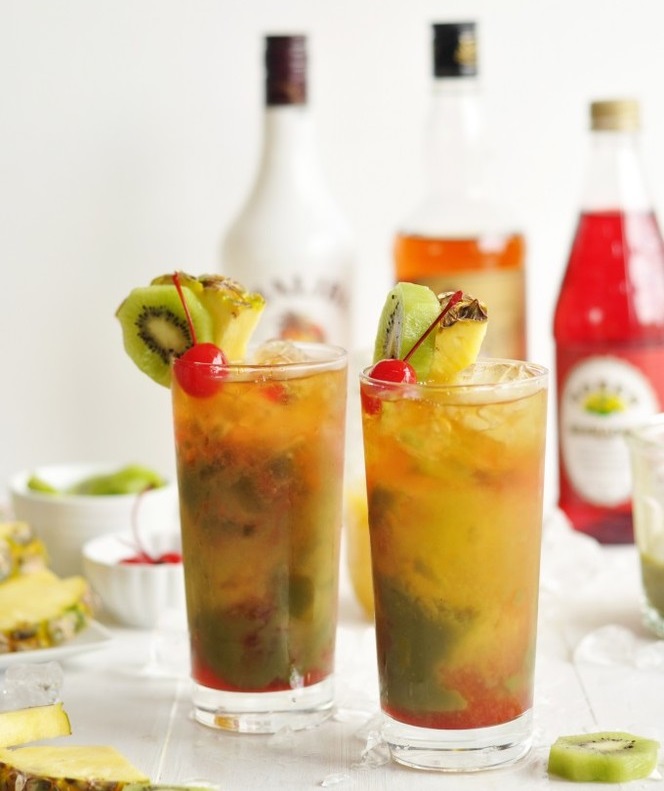 White Peach Sangria
Another tasty recipe from Foodie Crush! Sangria is already a delicious wine mixture for summer, but lighten it up a bit with the sweet flavors of white peach.
Ingredients (1 pitcher):
1 bottle of white wine (Riesling or Chenin Blanc)
1 bottle of sparkling peach juice
1 peach, sliced
1 pear, sliced
10-15 cherries, sliced
4-5 sprigs fresh mint
Directions:
Combine all ingredients in a pitcher. Refrigerate for 1 hour or overnight. Serve with ice cubes if you're in a hurry with not time to refrigerate.

Island Breeze Cocktail
Courtesy of Crazy for Crust, the Island Breeze cocktail is an iced vodka drink with pineapple and cranberry juice.
Ingredients (1 drink):
1-2 ounces of vodka
6 ounces of pineapple juice
Splash of cranberry juice
Pineapple slice and maraschino cherry for garnish
Directions:
Pour all ingredients over ice, stir, and enjoy!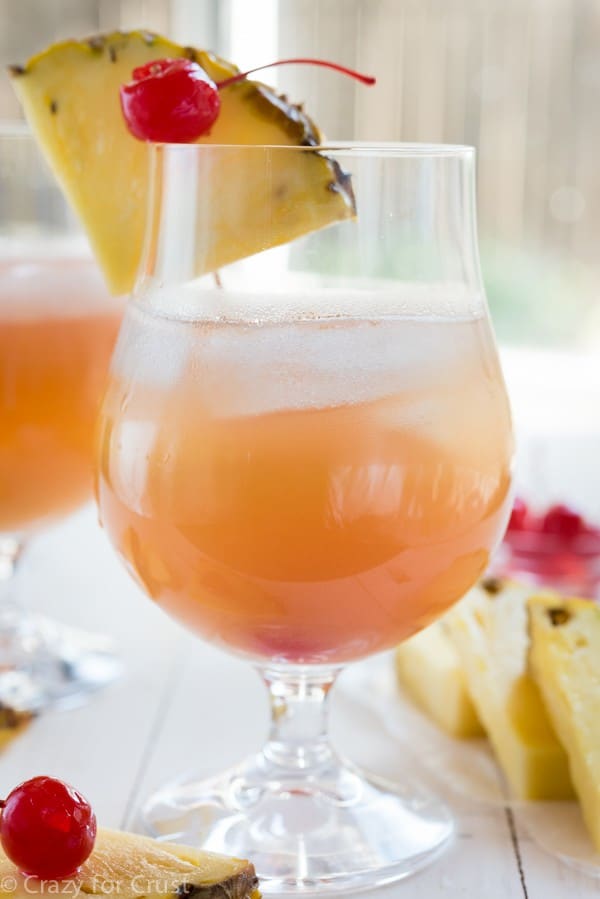 Cucumber Cooler Cocktail
You can't get any simpler than the Cucumber Cooler cocktail recipe provided by the Minimalist Baker. Feel refreshed and cooled down with this cocktail.
Ingredients (1 drink):
1 ½ ounces of gin (or 3 Tbsp)
4-6 cucumber slices
1/4 lime, sliced
4 ounces of tonic water
6 mint leaves
Directions:
Add mint, lime, and gin to shaker and muddle. Add cucumber slices to shaker and shake vigorously. Pour mixture over glass filled with ice and top with tonic water. Stir, let set for a few minutes for the flavors to enhance and enjoy.
Mango and Plum Sweet Tea cocktail
Rounding out our list is a salacious twist on the classic summer drink. Mix your sweet tea with a little bourbon, mango and plum for a delicious summertime drink. Recipe by A Beautiful Mess.
Ingredients (1 drink):
3 ounces of tea
2 ounces of fresh orange juice
1 ounce of bourbon
2 ounces of Jeremiah Weed Sweet Tea Vodka
plum and mango, cut into cubes
Directions:
Mix tea, orange juice, bourbon and sweet tea vodka in a short glass. Add cubes of fruit and serve with ice. Optional: garnish with fresh mint leaves.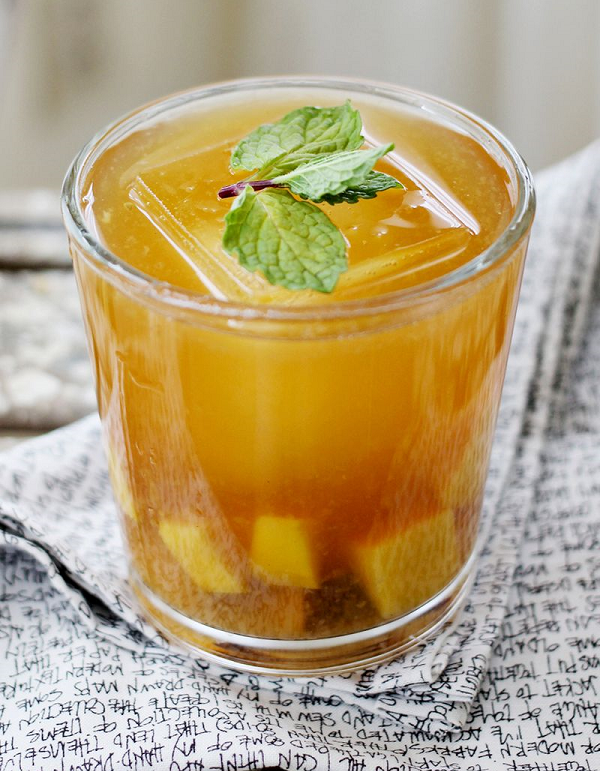 Related: Yummy Ways to Flavor Water
These drinks have the ladies of the CGS Team super ready for summer! We can't wait to give these quick and easy summer cocktails a try! Do you have any summer cocktail recipes to share? Post a comment below with your favorite summer drinks!
-The CGS Team