Each country has their own beauty regimen that sets the people living there apart from anywhere else. Paris is one of the most fashionable and fascinating cities in the world and the CGS team gathered a few Parisian beauty tips inspired by the lovely women who live there! It's crazy how the smallest changes to your routine can yield the greatest results. Check out these great beauty tips straight from Paris!
Parisian Beauty Tips & Tricks
Skin
Extremely conscious of their skin, Parisian women practice taking care of their skin at an early age by washing and moisturizing daily. The sooner you begin treating your skin as a priority and nurturing it with products, a healthy diet, and water, the less skin problems you will have day-to-day.
Protect your skin from sunrays, and apply sun protection daily. Most facial moisturizers offer SPF, so make sure to read the label to confirm! Using products meant for your skin type will ensure the best results combined with drinking plenty of water to stay hydrated. Women in Paris glow and it's because they take great care of their skin!
Make-up
Women in Paris never overdo their make-up! Channel your inner Parisian and go for a more natural look. Not only will it make you appear younger, but your face won't feel as weighed down. Lighter makeup on your skin can also help prevent breakouts if you experience them frequently. A soft makeup look should include the basic foundation you wear, mascara, a bronzing eye shadow, highlighter, and nude lips. Wherever your day may take you, light make-up will help ensure that you'll have a fresh glow in the process!
Style
Parisian women tend to go for a more sophisticated look. They keep their look tame by not overdressing or showing too much skin. They tend to dress with a sense of elusiveness. If they wear a sheer top, it's most likely paired with a solid color pants. Paris women don't enjoy the thought of baring it all. Play up your natural sex appeal instead of relying on revealing clothes to bring it out.
The women of Paris believe less is always best when it comes to accessories too! They let their wardrobe speak for itself. Instead of wearing overbearing jewelry that takes away from your style, go for a statement necklace and simple earrings. One statement piece is believed to be better than several.
Fragrance
The good smell of fragrance originated in France. If a woman in Paris walks passed you, you can be sure that their luxurious scent will follow! Keeping a travel size of your favorite fragrance in your bag at all times ensures that you smell great and leave an impression on whoever you talk to for the day. You don't need to drench yourself in your scent. The best way to apply fragrance is spray it in front of you and walk into it.
As the old saying goes, when in Rome act like the Romans! These few Parisian beauty tips prove that a little can go a long way. If Paris culture fascinates you, we recommend the book "Lessons from Madame Chic, 20 Stylish Secrets I Learned While Living in Paris" by Jennifer L. Scott. She talks about the fabulousness of Paris and what she got to bring back to America with her!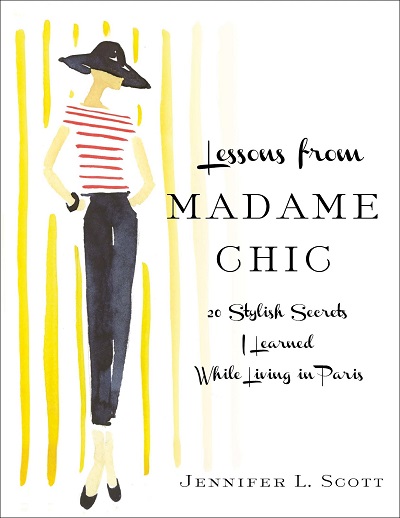 Are you a fan of French culture? Do you have any tips from Paris that you would like to share with us? We would love to hear from you, so leave a comment below and let's chat!
-The CGS Team