When it comes to work, there is often a misconception that a woman's wardrobe needs to be tame, lacking color, and ultimately lifeless. This is far from true! Even if you don't have a career in fashion (we can't imagine a dull wardrobe for Gucci employees), there's no reason for you to dread dressing for work. The CGS Team is sharing some fabulous advice from InStyle Magazine when it comes to nailing your work wardrobe.
"Simply invest in this balance of office-friendly staples to build a weekday wardrobe. You will get out the door in minimal time with maximum polish. Quite the promotion-worthy feat!" Continue reading to obtain the right percentage of pieces which are key to a trendy, non-dreadful work wardrobe!
20% Style Statements
"Dressing for a job doesn't mean you have to leave your fashion savvy at home." When it comes to dressing for work, including your personality into your outfits will allow you to feel more like yourself and get you inspired for dressing for work. "The trick is to strike a balance that says you're unique chic but doesn't provoke side-eye from your boss." Think jewel-toned colors like Ruby, Emerald, and Sapphire.
Also, incorporate shapes and textures. Asymmetrical skirts, silk blouses, and wool coats that are favorites in your normal wardrobe can be incorporated for work.
35% Business Basics
Corporate job or not, dressing professionally is never frowned upon in any industry. The old saying "dress for the job you want" rings true when it comes to dressing for the job you have. "You don't have to spend a fortune…just seek out solid dark-hued items in breathable fabrics that don't wrinkle easily."
The article Corporate Wear for Less shares our recommendations for fashionable and affordable office wear. "The most important thing is that you take pretty much all of your off-the-rack finds to a good tailor who can transform them into customer-crafted textures." A few popular business basics include: fitted button-ups, a tailored suits, fitted blazer, and a knee-length skirt.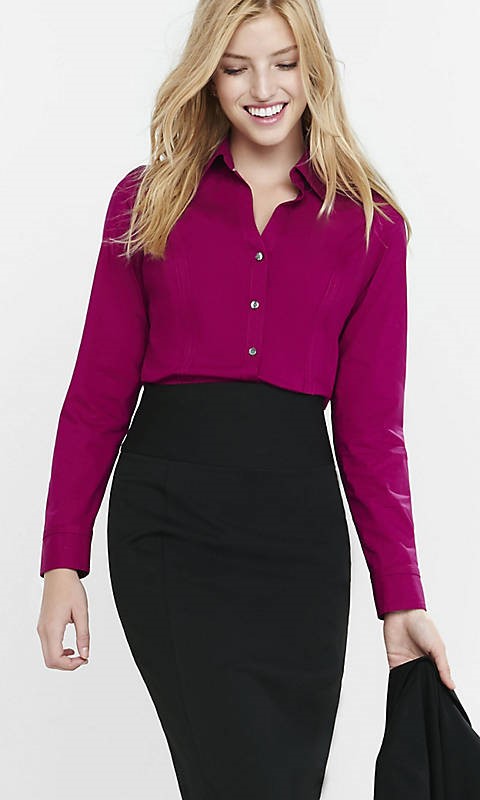 Express "The Original" Long Sleeve Essential Shirt ($59.95)
 20% Layering Pieces
"These are the building blocks of your wardrobe – the background players that work overtime so you can mix and match separates with ease on hectic mornings." Layering pieces should include crew neck tees, v-neck tees, cardigans, turtlenecks, and simple sweaters.
"Stick to simple shapes and colors with very little print (though subtle stripes are fine), and buy across all seasons. That means stocking up on everything from cozy sweaters to lightweight tees." Don't be afraid to buy in bulk. If you find a brand that fits you perfectly, get a few different colors!
10% Classic Accessories
Accessories can add the finishing touch to any outfit, even when it comes to work. A chic scarf, trendy sunglasses or good quality pumps can take any outfit to the next level. "Finishing touches say a lot about who you are and your attention to detail – the cliché that interviewers always look at shoes exists for a reason." If you want to tone your accessories game down, opt for a timeless watch or classic black pumps.
10% Cocktail Attire
"Sometimes your 9-to-5 wear just won't cut it for client dinners or holiday parties. Pick up a few items that put an elegant twist on your everyday uniform, such as satiny black pants or a silk camisole to wear under a blazer. Embellished heels also pack a punch, and a clutch can be stashed in your tote during office hours."
If you don't have time to head home and change before an event, don't be afraid to keep your outfit with you and change in the bathroom. Always be prepared for a day to night transition when after-hours events are involved.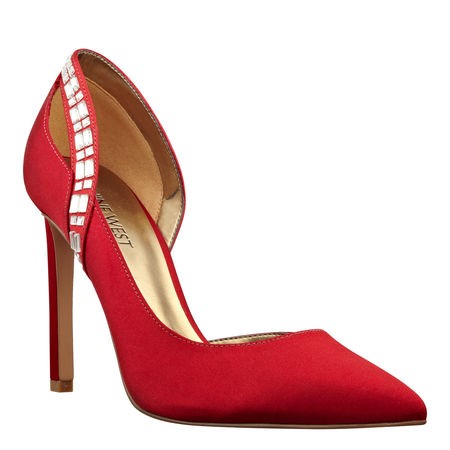 Nine West Embellished "Tapdance D'Orsay Pumps" in Red Satin ($89)
5% Outerwear
"Common pitfall: You put together a bulletproof ensemble only to ruin it by layering a puffer jacket or schlumpy coat on top. Save yourself from this fate by investing in a long double-breasted number to wear with suits." A trench coat is also a mandatory fashion item for any wardrobe. Pairing a nice coat over a dress, suit, or skirt will ensure your entire look is pulled off perfectly. With the colder season coming, don't wait to get your coat!
Related: 8 Office Wardrobe Essentials
With the right amount of personality + professionalism, dressing for work can be as fun as dressing for a night out! We couldn't agree more with InStyle Magazine's wardrobe ratio! What are your favorite fashion pieces for work? Do you need to incorporate any items above into your work rotation? Share your thoughts by leaving a comment below!
-The CGS Team