That time of the year is here again! Tis the season to stay in budget and celebrate the holidays with as little stress as possible! If you are anything like me, then decorating for the holidays is definitely on the to-do list. You could spend a fortune on ornaments and decorations, or you can get creative and make your own Christmas ornaments! I've done some research to pinpoint easy, adorable homemade Christmas ornaments you can make this year! I may be making my own as well!
Peppermint Candy Ornaments
If you are looking for ornaments that are easy to make and easy to grab someone's attention, then the Peppermint Candy Ornaments from Hello Homebody are right up your alley!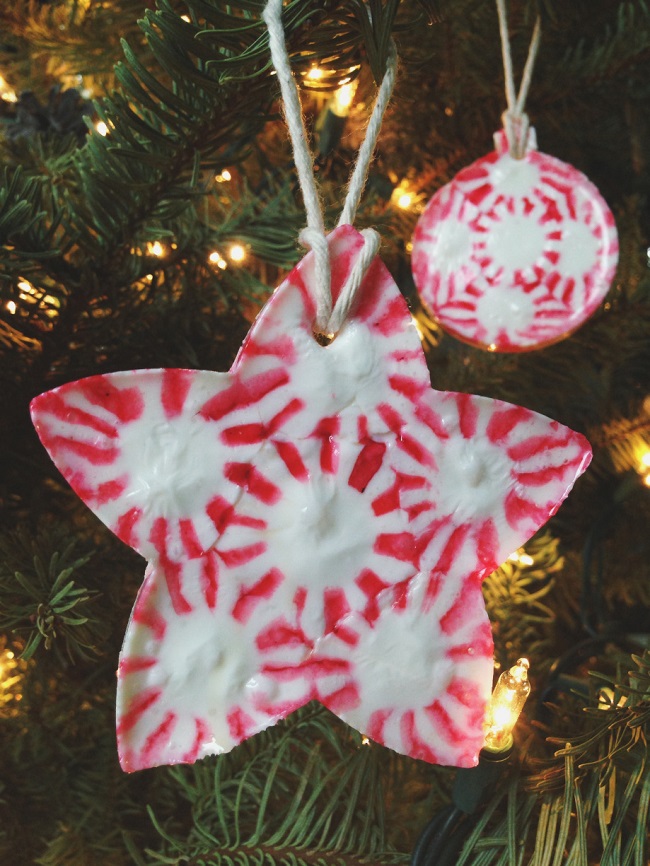 Here's what you need:
peppermint candies
metal cookie cutters
non-stick cooking spray
parchment paper
toothpick or skewer
twine or ribbon
Here's what to do:
Preheat oven to 350F. Line a baking sheet with parchment paper. Spray the inside of each cookie cutter with cooking spray. Lay cookie cutters on baking sheet and fill with a layer of peppermints.
Bake for 3-9 minutes. Keep an eye on candy as it melts, remove from oven when candies have melted together.
Lightly coat a toothpick with cooking spray and use it to make a hole in each group of candies. Let candy sit inside cookie cutter until it re-hardens. Once hard, carefully stretch out the cookie cutter, pulling it away from the candy, to pop out your ornament.
Sparkling Stars
Want something simple and shiny? The sparkling star hanging ornaments from Woman's Day are just what you need to shine bright this Christmas.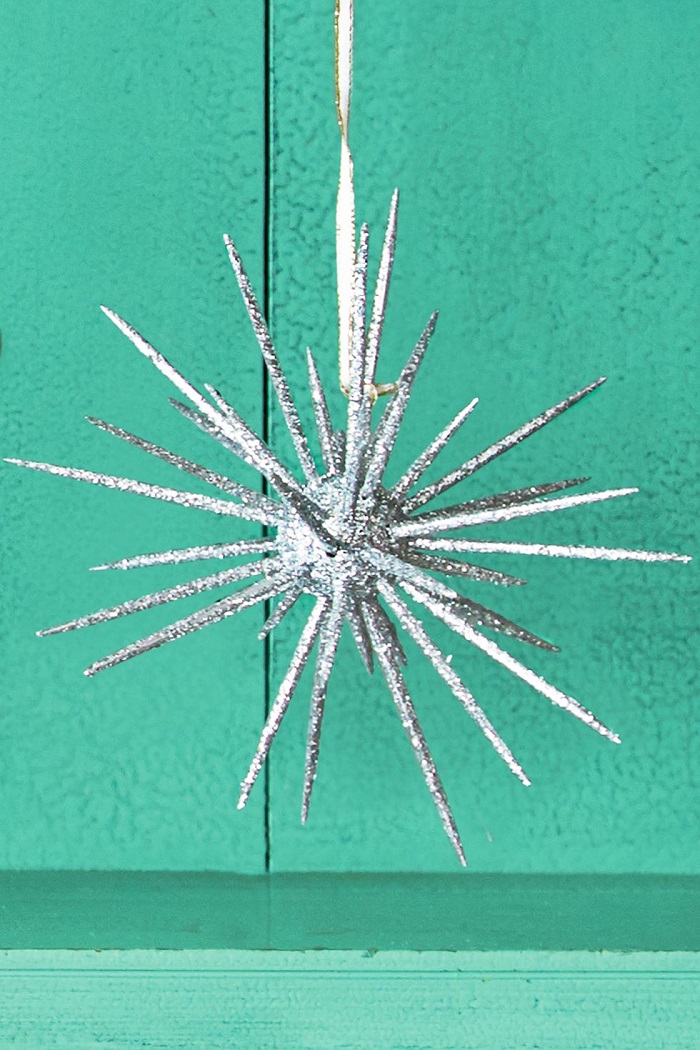 Here's what you need:
Foam balls
Silver glitter
Toothpicks
Here's what you need to do:
Carefully push whole and halved toothpicks into a 11⁄2″ foam ball, then apply 1 or 2 coats of silver spray paint. While still wet, dust fine silver glitter over the ornament. Use a dab of hot glue to attach a string for hanging.
Ball Jar Light Ornaments
Who needs lights on the Christmas tree when you have a creative alternative? The DIY ball jar light ornaments from Lolly Jane are the perfect lighting alternative this holiday season.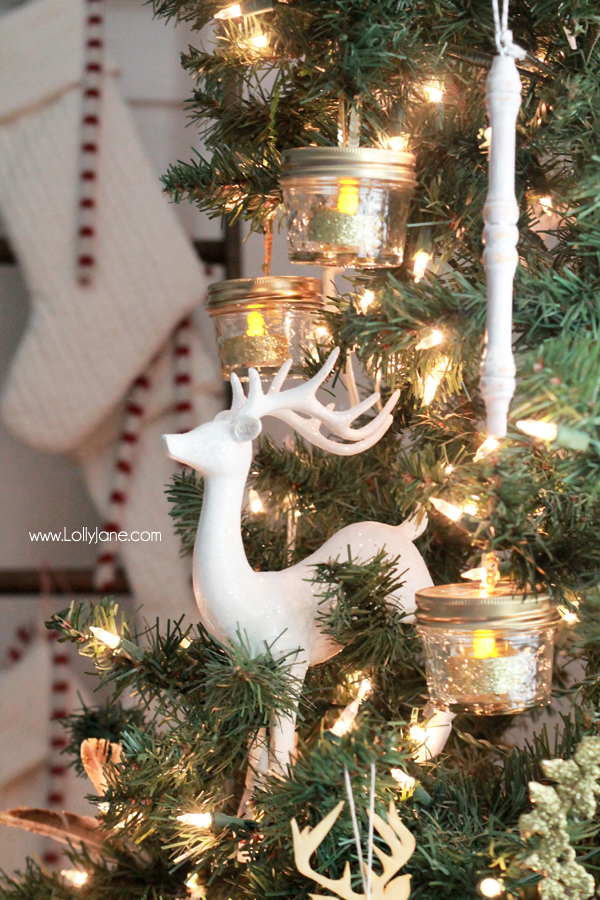 Here's what you need:
4 oz. Ball canning jars
regular mouth daisy lid
Rust-oleum gold metallic spray paint
glittered gold battery-operated tea light candles
gold sequin elastic ribbon
Here's what you need to do:
Spray paint daisy lids gold.
Once dry, loop elastic ribbon and tie in the center of the daisy lid.
Place glittered tea light candle in ball jar, (add a bit of washi tape to secure the candle in place.)
Screw lid on and hang from tree!
Gold and Clay Ornaments
Do you like to color-coordinate your Christmas tree? If gold is your go-to color for Christmas, then the gold and clay ornaments from Project Nursery are perfect for your color scheme.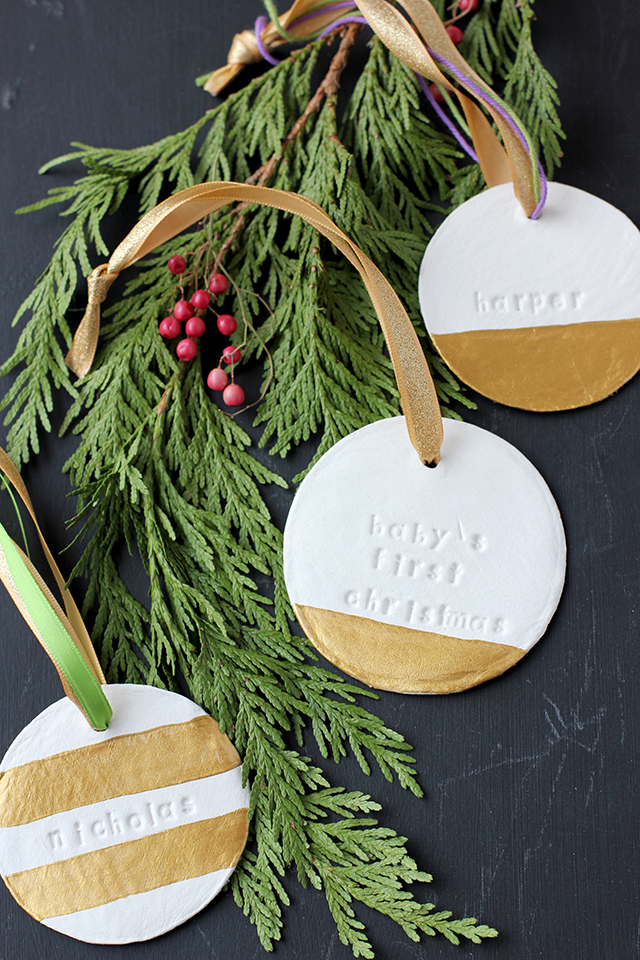 Here's what you need:
air-dry clay
rolling pin
cutting board
drinking glass
cutting tool
chop stick
paint and brush
alphabet stamp set
Here's what you need to do:
Roll out air-dry clay on a cutting board. Roll to thickness of 1/4 inch.
I used a drinking glass to cut out the circle shape for an ornament. Press glass firmly into clay.
Use the cutting tool to get a clean circle shape.
Carefully lift clay from board. Smooth edges with your finger. Dip your finger in water and rub on edges if you need more help smoothing out.
Place on board. Use smaller end of chop stick to create hole for ribbon. Press firmly. Smooth with finger.
Use alphabet stamps to stamp child's name or baby's first Christmas or really anything you want. Press stamps gently. You do not want the stamp to go all the way through the clay. Let dry for at least 24 hours.
Tape off an area on the ornament to paint.
String the ornament with ribbon or yarn.
Related: DIY Christmas Cards
There you have it! A few homemade Christmas ornaments to get you started on your holiday DIY journey! You don't have to break the budget to have a wonderful holiday season! You can be original and keep the spending in line! Do you create your own holiday décor? What ideas can you share with myself and other CGS readers? Post a comment below to share!
-Raya
The CGS Team