We are so excited to share today's exclusive interview with fashion blogger Heather Anderson of Style By Fluent! CGS Team member @jerelynyates had the opportunity to meet face to face with Heather at a coffee shop in Dallas! Jerelyn was able to get some great insight from Heather, and she is sharing with the members of City Girl Savings! Continue reading to see what Jerelyn and Heather had to say!
"Last week I had the pleasure of meeting with fashion blogger Heather Anderson of Style By Fluent. Heather was born in New York, but grew up most of her life in Carrollton, TX. Apart from being a fashion blogger, she is a loving wife and mother of two. Heather graduated from the University of North Texas with a degree in Business with a focus in Human Resources. After graduating Heather worked for a hotel as a Human Resource Manager. She took a break from work to start a family.
Although Heather was a business major she always had a "passion for fashion".  About four years ago Heather started her own business as a personal shopper where she would do closet audits for her clients. These audits consisted of a list of apparel that should be cut from a client's wardrobe and a list of apparel that could be added to the wardrobe. Once the audit was performed she would then go to stores and do all of the leg work for the clients by shopping for items such as clothes, shoes, and accessories and compiling them into one fitting room for the customers convenience. Although Heather loved her job as a personal shopper it was very time consuming and limited.
After much thought Heather decided to start her own fashion blog, which would allow for more flexibility and would help her reach a larger audience. After blogging for about 6 months she began to work with a company known as Reward Style, a company started by Baxter and Amber Venz Box, which acts as a middle man between the fashion blogger and the retailer. Heather's main focus in starting her blog was to help women to feel good, try different styles, teach women how to dress and give them confidence. She has now been successfully sharing her fashion advice with 17.2k followers after blogging for 3 years!
Heather is glamorous, chic, beautiful inside and out, and has a great eye for fashion. We at City Girl Savings were so blessed to be in the presence of such a strong, savvy, beautiful spirited woman and learn a little bit about her passion for fashion. We asked Heather a couple of questions to help us get to know her a little better and shed light on a few fashion tips."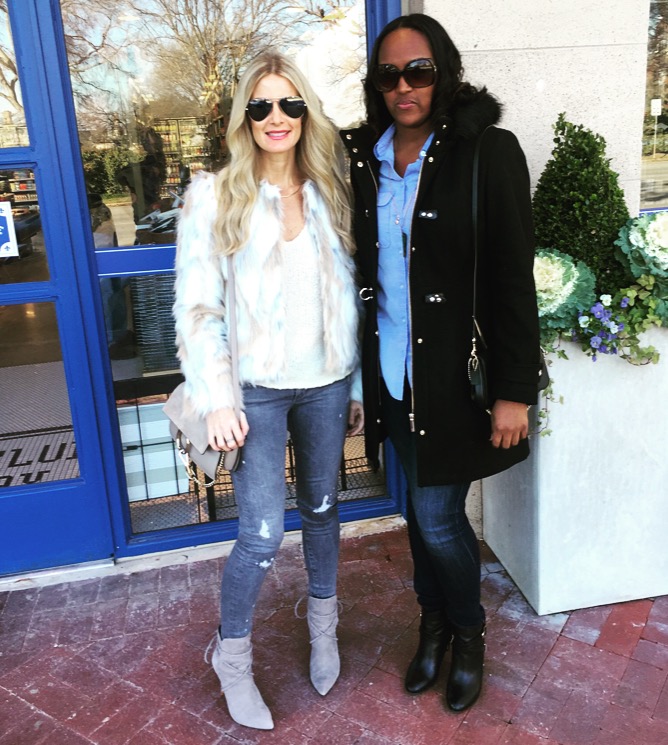 CGS Team Member @jerelynyates with Heather Anderson
CGS: You are a trendy woman and you show that great style has no limits. What inspires your fashion personality? Do you relate more to current trends or do you focus on putting together outfits based on what you like, regardless of trends?
Heather: "I definitely keep trends in mind when putting together looks. However I put outfits together while keeping in mind that every trend is not for every woman given that women come in all shapes and sizes."
She also offers different ways to wear the styles that she post. For example, Heather has a post where she's wearing a sweater dress. However for a taller woman, the sweater dress could possibly be too short and may best be worn as a tunic with a pair of leggings versus as a dress. While keeping these differences in mind Heather only puts items on her blog that she loves, that she will wear, and that is her style. She definitely stays true to her image and style.
CGS: City Girl Savings inspires women to achieve financial independence, and maintain a fashionable lifestyle. What advice would you give to women trying to be fashionable on a budget?
Heather: "You don't have to spend a ton of money on fashion items to look chic. You can find items that are reasonably priced that look similar to items that may be priced much higher."
For example take a look at Heather's Splurge vs. Steal post on her blog. She's wearing a hunter green TopShop bomber jacket for only $105, whereas the jacket on the left being worn by Rosie Huntington-Whiteley is a designer jacket priced over $2,000.
Heather recommended some of her favorite brands that are reasonably priced in Nordstrom such as Top Shop, and BlankNYC. She loves that their jeans look like designer jeans and their great faux leather jackets. In addition she mentioned some key staple pieces that she believes every woman should have in their closet which consists of:
a leather jacket
a good pair of jeans that fit well
a nice pair of suede black pumps
a blazer
Heather selects these pieces because they are very versatile. Each one of these pieces could be worn to church, work, a date night or simply every day wear.
CGS: What are some of your favorite beauty brands?
Heather: "Mary Kay's time wise line, specifically their cleanser and foundation, Tom Ford's lipstick line, because of its beautiful shades and long lasting wear. And lastly, Charlotte Tilbury's beautiful pallet collection of eye shadow colors, great eyeliners and lip gloss."
CGS: What are three of your favorite looks from 2015?
Heather:
"Over the knee boots" – Heather believes that most woman can wear over the knee boots weather you wear them however depending on the age and style of the woman over the knee boots may be worn differently. For more details and ideas check out Heathers post, "Chic at Every Age". Chic at Every Age features how woman from their 20's to their 40's chose to wear the items differently to cater to their own unique style.
"Faux fur vest" (featured at Nordstrom).
"Leather jacket" – Again no matter what color the leather (or faux) jacket is, it is a key piece that can be worn with many different looks, for multiple occasions.
CGS: Who are your fashion inspirations? Which celebrities, designers, or other fashion bloggers/trendy women' s do you love the most?
Heather gets her inspiration from friends, other fashion bloggers (Who What Where, Fashion Chic Styling), Pinterest, and fashion magazines such as Elle and Harper's Bazaar. Celebrity inspirations include Kate Moss, who she considers her style icon, Rosie Huntington-Whiteley and Rachel Zoe.
CGS: In your opinion, how important is it for women to save their money? Where do you draw the line between shopping and saving?
Heather: "It is very important for women to save their money because you never know what tomorrow brings. You should pick a number every month to save and save it. Aim for at least 10% of your earnings and always pay yourself first. If you pay yourself first you won't even miss it. Women can be independent and powerful and we don't need a man to support us or make us feel good about ourselves we can do that on our own. "
Although it was scary for Heather to put herself out there in front of the world she was brave and followed her passion. She has encountered a few rude people. "Being in the blogging world you have to have tough skin and remember why you started on this journey in the first place."
Heather said she is where she is today because God has allowed her to follow her passion and she would not be where she is today if it was not for him." Overall she has had a wonderful experience meeting new friends, reaching a larger audience, and being encouraged by others. "It is a great experience being able to share my passion with everyone, and make some money while doing so." One of her goals is to be able to blog full time and have this as her sole source of income.
Related: Get Started in Fashion Blogging
We would love to hear your thoughts about Heather and what she had to say! Share your thoughts with the CGS community by leaving a comment below!
Follow Heather Anderson!
Facebook: Style By Fluent
Instagram: @stylebyfluent