Spring is here, and that means sunny days, beautiful weather and fun fashion! One of the best accessories for spring is a great pair of shades. It's important that your shades fit your face shape, or you could run the risk of missing out on the potential of the sunglasses itself! We came across an article from Elle that helps you find the best shades for your face shape. The beauty of this article is that they use celebrities as examples! Check out the article below.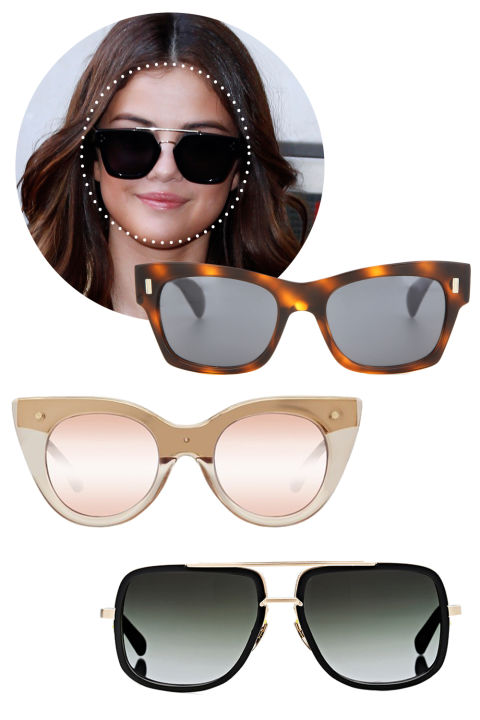 Round
"Offset your round features with geometric shaped sunglasses. Rectangular frames will help elongate your face, while cat eyes sharpen your soft features. Let Selena Gomez in a pair of square aviators be your guide."
Styles that work: Rectangular, sharp cat eyes
Oliver Peoples x The Row 71st Street Sunglasses, $450; mytheresa.com
Le Specs Nefertiti, $119; lespecs.com
Dita Match One Sunglasses, $700; barneys.com
Square
Opposite of gals with round faces, you should offset your sharper features with curvier frames. Olivia Wilde is a great example of a woman who knows her face shape, wearing modern cat eyes with rounded edges that curve downward.
Styles that work: Aviators, butterfly, cat eye
Chloé Jayme Sunglasses, $346; barneys.com
Mykita Priscilla, $519; mykita.com
Forever 21 Oversized Aviator Sunglasses, $8; forever21.com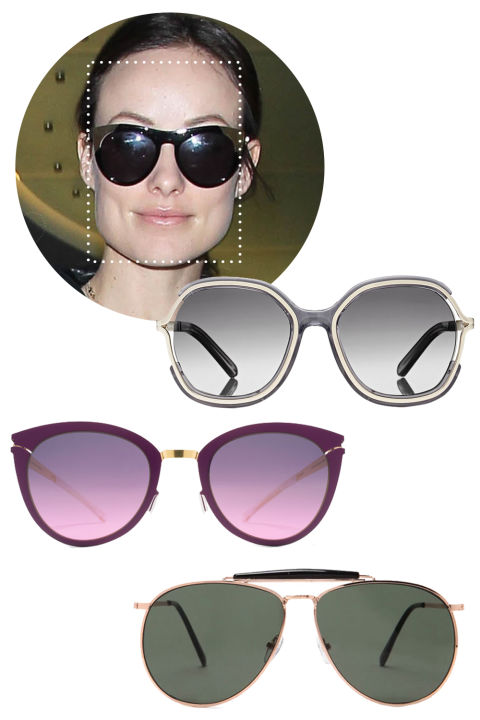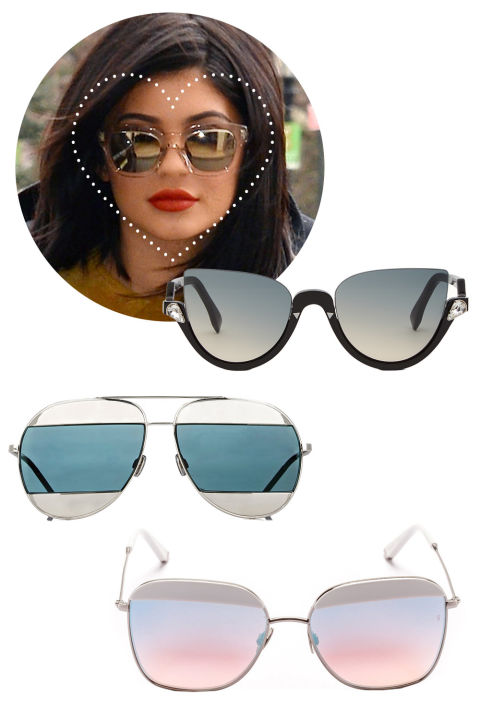 Heart
If you have a broad brow and narrow chin similar to Kylie Jenner, try a style with bottom-heavy frames. Shapes that are parallel and extend past the width of your face complement your strong jawline. Aviators are also another great option as the silhouette contrasts your heart-shaped face.
Styles that work: Exaggerated bottoms, rectangular, aviators
Fendi Blink, $505; fendi.com
Dior Dior Split 1 Aviator Sunglasses, $555; barneys.com
Sunday Somewhere Vito, $420; sundaysomewhere.com
Oval
Lucky you! Oval-shaped faces have the most wiggle room when choosing their eyewear. Like Rihanna, you basically get to wear whatever you want. Go with round shapes if you're an Almost Famous-Penny Lane type of gal or edgier shapes if you're more Good Girl Gone Bad.
Styles that work: Circular, rectangular, oversized, round
Prism London Brooklyn, £265; prismlondon.com
Eyevan 7285 Model 731 Sunglasses, $450; barneys.com
Topshop Slim Metal Preppy Sunglasses, $30; topshop.com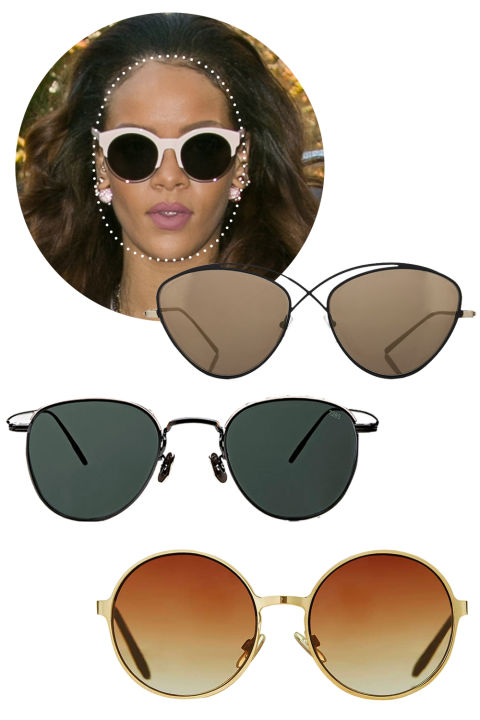 As seen on Here's How to Find the Best Sunglasses for Your Face Shape on Elle.com
The great thing nowadays is that there is such a large variety when it comes to choosing sunglasses. No matter what your face shape is, you can find the perfect pair of sunglasses for you! Has your face shape ever stopped you from buying a great pair of shades? Where are your favorite sunglasses from? Leave a comment below to share!
-The CGS Team