The beauty of hair is that there are so many different ways to style it! Today, the CGS Team has decided to show you how to master the classic style: a sleek low-bun.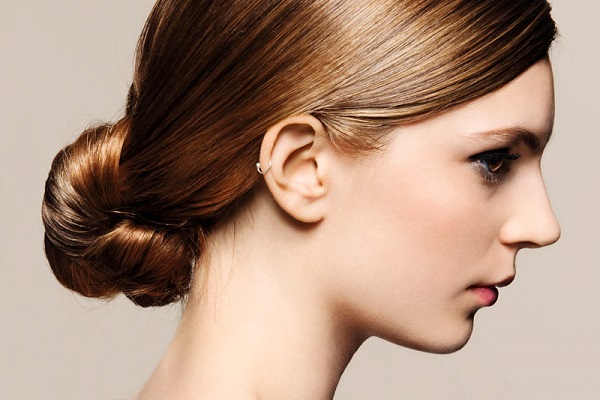 Many of you may already be professionals at creating this sophisticated look, while others need a little guidance. The CGS Team is here to help! We're sharing a few simple steps to nail a sleek low bun any day!
How to create a sleek low bun at home!
Step #1
Whether you start with hair that is wet or dry, this look is achievable! This first step is to comb through your hair making sure all the knots and tangles are out. It's important to do this because you want your hair to be sleek with no bumps. Brushing your hair helps in achieving that slick, sophisticated look.
Step #2
Pick your part. Do you want a deep side part or a classic center part? Once you have decided, use a fine-tooth comb to part your hair. Try to be precise as possible to ensure your part is even.
Step #3
After you have combed through and parted your hair, apply the hold products of your choice.   For a sleek look, it's important to use products that will keep your hair in place. We recommend Suave Professionals Luxe Style Infussion Volumizing Soufflé Mouse because it provides a firm hold without the crunch. Regardless of your hair-hold preference being hairspray, mousse, or gel, make sure to apply the product evenly throughout your hair.
Step #4
After applying your product, use a boar-bristle brush to brush your hair down for a flat finish. It's important to brush your hair in the same direction to help aid to the sleek look. Once you have all your hair moving in the same direction, take a hair tie and put your hair into a low ponytail.
Step #5
Now that your hair is slicked back into a low ponytail, take the ponytail and twist it. Twist your hair all the way down to until you reach the end of your tail. After twisting to the tail, take the twisted hair and wrap it around the top of your ponytail. Once your hair is fully wrapped around your ponytail, take bobby pins to secure the bun in place. Add some hairspray to prevent any stubborn fly-aways.
How simple was that?! We hope these simple steps help you create the sleek low-bun look for any occasion! What hair styles are you interested in learning how to create? Share with us so we can add them to our next "Beauty How-Tos" post! We love hearing from the community so feel free to share your thoughts!
-The CGS Team