Tired of spending countless hours in the mirror trying to create the perfect cat eye look? With the right instructions, you can achieve the cat eye look that has blown up in the makeup world. The CGS team has put together a tutorial to help you nail the cat eye. No matter what the occasion is, a cat eye can be worn with absolutely anything and anywhere!
The perfect cat eye at home
Step #1
The first step in achieving the perfect cat eye is to prep your eyes. Put on the eye shadow of your choice. If you want to look natural, a soft pearl shade will do. If you want a fierce look, go with a smoky eye with a dark color. Some prefer to apply eyeliner on the bottom lid before completing the cat eye look.
Step #2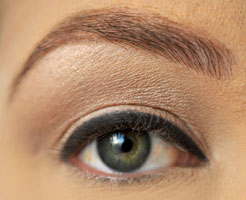 Once your eyeshadow is applied, draw a line as close to your lash line as possible. You have the option of drawing a thick line for a more dramatic look, or a thin line for a subtle cat eye. It takes practice to nail a straight line, so if you are just starting out, consider drawing the line with short, even strokes.
Step #3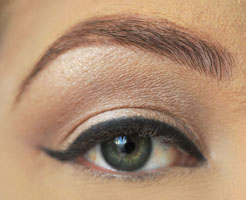 Once you've completed lining your upper lid, you are ready to create the wing. Decide on the length and the angle of the wing now. Then, starting from the last lash, draw a line outwards.
Step #4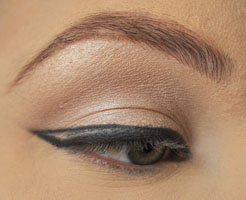 After drawing your wing, draw a line back to your upper lash line. This should create an empty triangle on your upper lid. If you are going for a think line, draw a bigger triangle, ending at the middle part of your lash line. For a more subtle look, draw a small triangle that finishes in your outer corner.
Step #5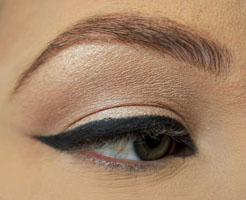 Lastly, fill in the triangle and rock that perfect cat eye!
Related: 5 Tricks for Brighter Eyes
Remember, practice makes perfect! Don't get bummed if your cat eye doesn't come out like you wished initially. Over time you will get better! A trick to try when completing your cat eye is to rest your wrist on your chin as you are applying your liner. This will provide the stability for the curve in your cat eye. Be bold with your cat eye! Try different colors! We would love to see how your cat eye look turns out! Do you have a certain way you achieve your cat eye? Comment below and let's chat!
-The CGS Team