Tis the season to be jolly, and full of the holiday spirit! Christmas is such a wonderful time for family and friends to gather and appreciate one another. Many times, as you grow older, it is less about what Santa brought you and more about spending time with loved ones. The same goes with giving gifts! DIY Christmas gifts are always a great option!
Gifts are a natural part of the holiday season. However, it is not always about how much you spend on someone but how much thought went behind the gift. If this year, you are looking for more do it yourself gifts instead of rambling through the crowds check out these five gifts you can make. These 5 DIY Christmas gifts to make will certainly show how much you care!
Trophy Bottle Stopper
For those wine lovers out there we know this will be a huge hit. Take the figure off a trophy and use it as a bottle stopper to keep wine fresh and yummy. Simply use a drill to make a 1/8-inch-wide hole halfway down into a new cork. Then you are going to twist off the top figure of a vintage trophy (which are usually be purchased at a party supply or vintage store).
Apply superglue to the underside of the trophy top's base and the screw that extends from it. Insert the screw into the cork and twist the pieces together until flush and a tight bond forms. Allow one hour of drying time before using your prize design.
DIY Air Plant Pots
These cool creative plant pots will definitely leave everyone speechless! Thinking outside the box and going green with these unique DIY gifts is definitely the way to go. Using your drill bit, drill 1-inch holes in your doll heads. You can use 2 bar clamps to grab the ball from all four sides, squeezing them tight around the sphere and weighing the ends down with dumbbells to hold the whole thing in place while we drilled.
Let the drill to the work and do not press down too hard or you will get a lot of wobble. Press slowly and lightly. Next, using a couple of little containers fill them with varying amounts of water and dye. Mix well. Then, dip your doll head in the mixture between 1-10 minutes at different levels to get them to come out with different patterns. Place succulents or other plants into the pots!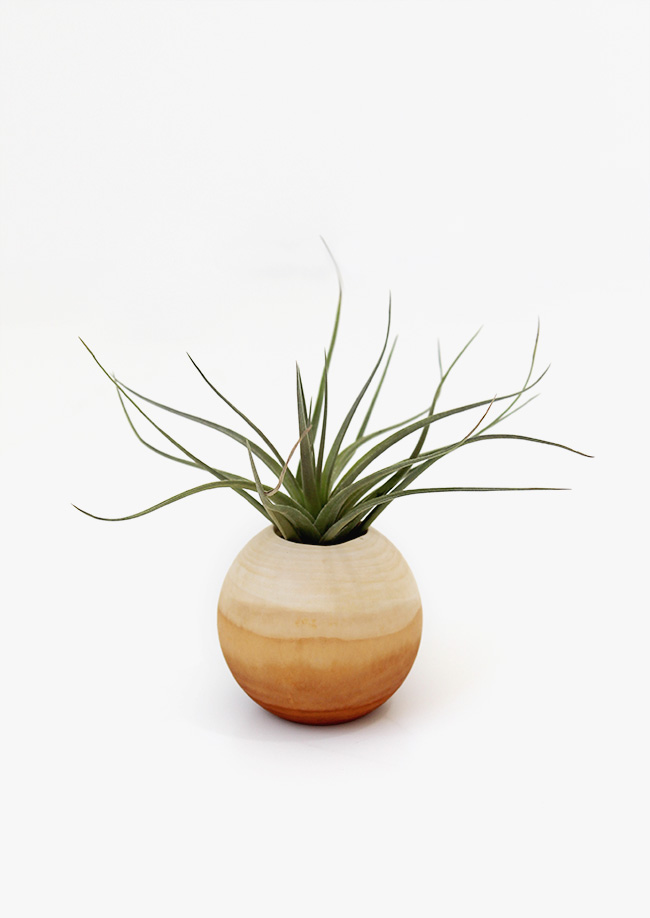 Flavored Salt Gift Idea
This gift is great for those who love cooking up a good meal. Making an assortment of salts for a food gift is great for people who love to cook! Bottle them up in small or large jars and stick on a personalized label and gift in a metal box with padding we are sure this gift will be a hit. Check out this recipe for new and savory types of salt recipes.  Salt flavors can vary from sea salt, ancho salt the flavors are limitless.
Rose Hibiscus Whipped Body Butter
In a medium bowl, measure out 1 tsp of almond oil. Add in 1 cup of coconut oil. Add a few drops of brewed hibiscus tea for color (you can add more lately to adjust color while mixing). Drop in Rose Absolute Essential Oil until you have desired fragrance strength. With a hand or stand mixer, whip mixture for approximately ten minutes until mixture becomes fluffy and forms peaks. This requires a bit of patience–just when you do not think it is working; it becomes fluffy and airy so hang in there. It is worth the wait! Add to glass container when it is whipped.
Mason Jar Candle Gift
Gifting someone a candle is sentimental and full of scents. Creating a handmade candle is personal and considered the perfect holiday gift. Making a candle is easier than you might believe it to be. You will need one ½ cups of candle flakes to make one half pint Mason jar candle. The first step you will need to Glue a candlewick in the center of your Mason jar or tea light cup. Secondly, melt soy candle flakes over a double boiler or in microwave according to package directions.
Typically, you can melt yours in a large Pyrex measuring cup (4-cup size) for easy pouring. Next, once the wax is melted stir in peppermint oil (about 15-20 drops), or any essential oil scent you want your candle to be. Pour into Mason jar or tea lights. Use a pencil to wrap the candlewick and hold in place while the candle wax hardens. Leave candle to harden for several hours or overnight. Trim candlewick before lighting.
Related: CGS Podcast Episode: How to Prep Your Budget for the Holidays
A gift made with your own two hands and given to someone you care deeply about is worth more than all the riches and gold in the world. The DIY gift can last longer than most gifts given on Christmas day. Have you ever given someone a gift that you made? On the other hand, have you ever received a DIY gift? If so, what were your thoughts upon receiving/ giving the gift? Check out our Facebook page, and do not forget keep up with the CGS community via Twitter & IG @citgirlsavings.
-Taelor
The CGS Team