Growing up, we've all had dreams of wanting to be something great. Whether your dream was to be a doctor, teacher, astronaut, or an actress, these dreams and visions were placed in us at a very young age. The vision was free to have and easy to image, however the route to get to the vision was certainly sold separately! That's where a vision board comes in.
A vision board is somewhat like a manual to making your dreams a reality. Envisioning the things you want most in your life is important, but the power of seeing it in front of you as a daily reminder is major key to success. The CGS team has put together some simple ideas to help you create your very own vision board.
What is a vision board?
A vision board is a tool that's used to help people create a much-needed tunnel vision to their goals and passions. A vision board is a plain display board, cork board, or large cardboard on which you display images that represent your goals. The images should represent what you want to be and where you want to go, what you're currently doing in your life, and goals you eventually plan to achieve.
A typical vision board includes a combination of words, pictures, and items that represent what's most important to you. Is there a woman who you look up to? Put her picture on there. Do you want a million dollars one day? Write yourself a check for $1 million and put it on your board. Get creative with what goes on your board!
Get Inspired by Shay Mitchell
Successful women in all arenas have been known to utilize vision boards. Shay Mitchell, who was recently on the cover of Cosmopolitan, shared a tidbit of her vision board on Instagram saying "10 years ago I had a vision board in my tiny Toronto apartment…among the photos of my dream jobs, travel photos and positive quotes, sat two cut out covers of Cosmopolitan magazine. I often go back to that board in my head when I daydream and marvel at all of the incredible things that have come to fruition.  Thank you Cosmo for making this vision-board-loving girl's dream come true!" How inspiring is that?!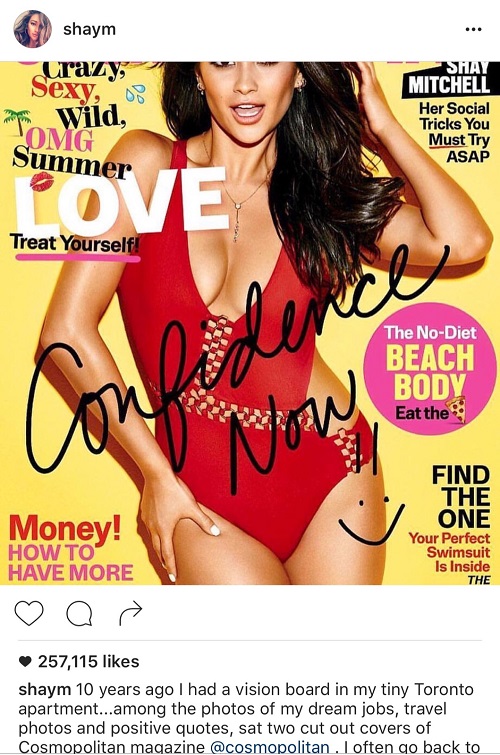 If you have never created a vision board before, now is the time to start! After all, why not give yourself that daily reminder of why you are working so hard?! The CGS Team is challenging all of the CGS members to create a vision board, including the CGS Team! Share your vision board in the Get Inspired group! If you already have a vision board, share a little about what's on there! How was the experience of making the board? Have your visions been coming true?! We can't wait to see and hear about everyone's vision board!
-The CGS Team