For all of our vegetarian members out there, this one's for you! We're sharing a unique recipe for the traditional Indian-specialty dish Tikka Masala. If you happen to love your meat, add some chicken to the recipe to get your fill! Check out the details below courtesy of A Beautiful Mess.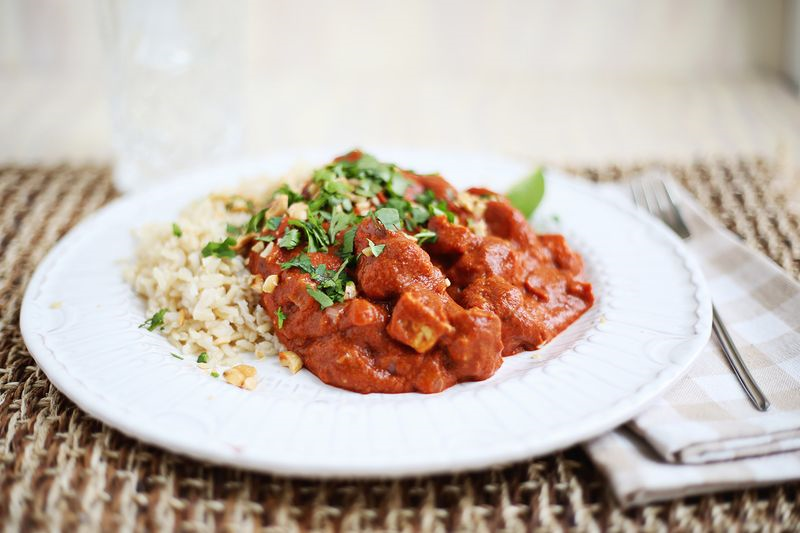 Vegetarian Tikka Masala Recipe
Ingredients
1 cup uncooked rice (I used brown jasmine)
2 teaspoons coriander
1/2 teaspoon cardamom
1 1/2 teaspoons cumin
1/2 teaspoon nutmeg
1/4 teaspoon cinnamon
1 1/2 teaspoons paprika
1/2 teaspoon cayenne
1/2 tablespoon fresh ginger, grated
4 tablespoons butter (or ghee)
1 small onion (or half a medium-size onion)
3 cloves garlic, minced
1 cup tomato paste
2 cups water
2/3 cup cream (I used half and half)
8 ounces tempeh
1/4 cup chopped cilantro
1/4 cup chopped cashews
one lime, for serving
Preparation
Begin by cooking your rice according to the package directions. You could also choose to skip the rice and serve this with naan instead.
While the rice cooks, get the sauce and tempeh ready. In a large saucepan, heat the butter over medium heat. Add the onions and cook for 1 minute. Then add the garlic and ginger, and cook for an additional minute. Now toss in the tomato paste, water, cream, and all the spices. Pro tip: I put all the spices in a small bowl before I begin cooking since it takes a little bit to measure all that out.
Add in the cubed tempeh and cook until everything is hot. If your sauce seems too thick, add a little more water or cream. Taste and season with salt if needed.
Once you're ready to serve, sprinkle on the chopped cashews and cilantro and a lime wedge.
As seen on Vegetarian Tikka Masala by A Beautiful Mess
Don't let the list of ingredients fool you, this preparation for this meal is simple! Have you ever made (or tried) tikka masala? Are you a fan of cooking and trying new recipes? Let us know your thoughts about the recipe by leaving a comment below!
-The CGS Team