Looking for an easy, yet tasty dinner idea? Try hot and sour soup! The classic Asian-style soup can be prepared easily and exactly to your liking! The CGS Team is all about tasty, easy recipes, so we're sharing the hot and sour soup recipe with you, courtesy of Gimme Some Oven.
Ingredients:
8 cups chicken or vegetable stock
8 ounces shiitake mushrooms (or baby bella mushrooms), thinly-sliced with stems discarded
optional: 1 (8-ounce) can bamboo shoots, drained
1/4 cup rice vinegar, or more to taste
1/4 cup reduced-sodium soy sauce
2 teaspoons ground ginger
1 teaspoon chili garlic sauce
1/4 cup cornstarch
2 large eggs, whisked
8 ounces firm tofu*, cut into 1/2-inch cubes
4 green onions (scallions), thinly sliced
1 teaspoon toasted sesame oil
Kosher salt and black pepper (or white pepper**)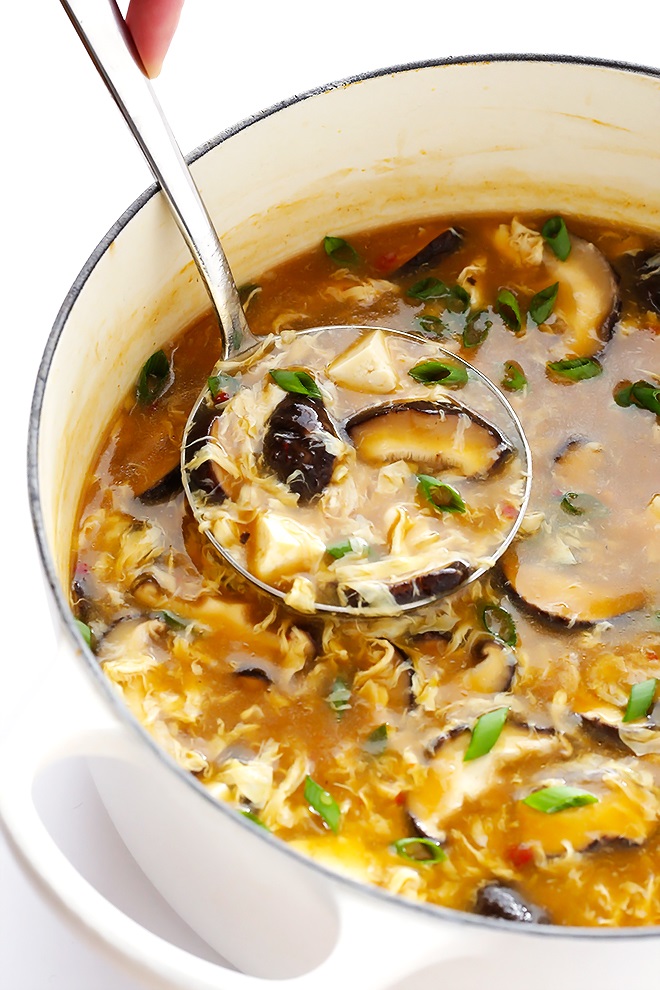 Directions:
1) Set aside ¼ cup of the chicken or vegetable stock for later use.
2) Add the remaining 7 ¾ cups chicken or vegetable stock, mushrooms, bamboo shoots (if using), rice wine vinegar, soy sauce, ginger and chili garlic sauce to a large stock pot, and stir to combine. Heat over medium-high heat until the soup reaches a simmer.
3) While the soup is heating, whisk together the ¼ cup of stock (that you had set aside) and cornstarch in a small bowl until completely smooth. Once the soup has reached a simmer, stir in the cornstarch mixture and stir for 1 minute or so until the soup has thickened.
4) Continue stirring the soup in a circular motion, then drizzle in the eggs in a thin stream (while still stirring the soup) to create egg ribbons. Stir in the tofu, half of the green onions, and sesame oil. Then season the soup with salt and black pepper (or white pepper) to taste.  If you'd like a more "sour" soup, feel free to add in another tablespoon or two of rice wine vinegar as well.  Or if you'd like a spicier soup, add in more chili garlic sauce.
5) Serve immediately, garnished with the extra green onions.
With simple ingredients and even simpler preparation, you can have a great-tasting meal in no time! Have you made hot and sour soup before? What soup recipes do you enjoy? Leave a comment below to share!
-The CGS Team