The messy fishtail braid is a trend that has taken over the runways, red carpets, and street style patrons. The great thing about this hairstyle is that it's so easy to achieve! Check out the simple steps to achieve a messy fishtail braid of your own!
Trying out new things can always be fun, especially with your hair. The messy fishtail braid is super trendy and is perfect for any occasion, whether you work in an office or go to school full time. Just a few simple steps and boom, you have a trendy hairstyle! Check out the steps below to help you create a messy fishtail braid. The pictures are courtesy of www.chicfactorgazette.com!
Steps for a messy fishtail braid
Step #1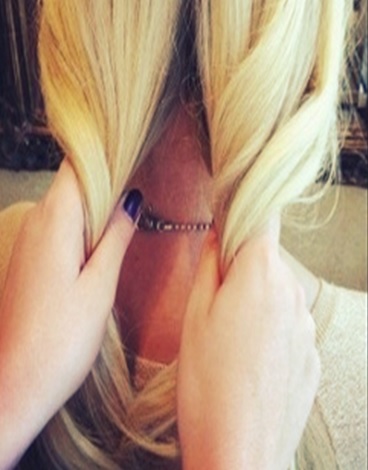 The first step is to determine where you would like your part to be. It's important to have dry hair before you start the braiding process so it's easier to manage. Brush your hair to smooth out any tangles and begin to divide your hair into two sections, preferably down the middle of your scalp.
Step #2
 
Once you've divided your hair into two sections, start the braiding process by taking a small piece of hair from the outside of one section as seen above. Begin to cross the small piece over and add it to the inside of the other section. This piece you have crossed will now become a part of the other section. Keep your crossed piece tight or hair may start to come out once you've finished braiding.
Step #3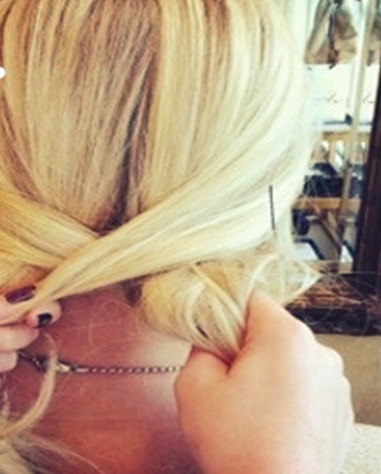 Now, you're going to make the exact same cross but this time you will use the other side's section of hair. Once again, take a small piece from the outer part of the section and cross it over to the inside of the opposite section. Remember to keep the crosses tight otherwise the braid won't come out correctly.
Step #4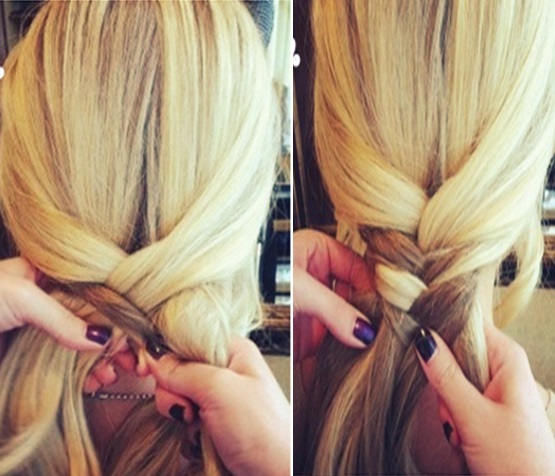 Continue crossing small outer pieces over to the inside of the opposing section. An important tip to keep in mind is the smaller the pieces you cross, the better the braid will end up. Stop braiding once you feel the sections getting too small. This should be around two or three inches from the bottom of you hair.
Step #5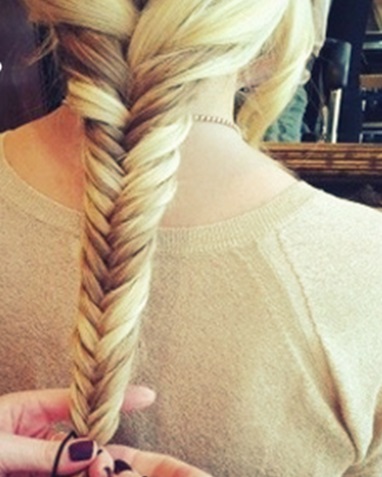 Once you've reached the end of the braid, tie it off with an elastic rubber band to keep the braid intact. Any hair tie will do, it's all about your preference!
Step #6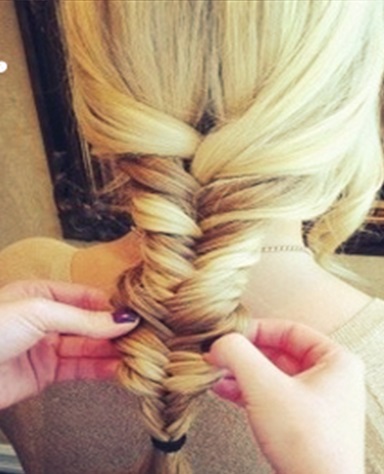 Lastly, create the messy look by gently pulling apart the braid; this gives the braid a more defined look resembling a fishtail.
A hairstyle that looks like it took forever only took a few minutes. These helpful tips to turn a basic braid into a fishtail braid are really simple! Do you have any tips on how to create a fishtail braid? We would love to hear from you! Comment below and share with the community!
-The CGS Team