We recently featured stunning Brooklyn Decker in the latest Celebrity Style Watch post, but now we're shedding some light on her décor personality! When she's not filming movies in sunny California, the model/actress is spending time with her tennis player hubby in Austin, Texas! The CGS Team is sharing a glimpse into Brooklyn's ranch-style Austin retreat thanks to her interview and home welcome with My Domaine.
"Tucked into the secluded, tree-lined acreage of West Austin, the Decker/Roddick compound could easily be considered a sanctuary. The pair's traditional Texas-style farmhouse feels entirely removed from the frenetic downtown development of America's number one growing metropolis area just miles away. Flush with a mélange of natural wood, stone, and light-filled charisma, it's easy to infer why the well-traveled couple favors the dwelling so well as a hideaway."
"Roddick and Decker purchased the home in 2013, at which point Decker set to work, culling points of reference from her favorite travel destinations, contemporary artists, and designers. 'I love interior designers,' she says. 'I love interior design more than a lot of things in life.' She demurs, a robust stack of books covering everything from architecture to hospitality in plain sight throughout her living room."
"When it came to building with her own approach, Decker learned the ropes over time and multiple real-estate ventures. 'We built a house seven years ago, and it was my first time doing anything interior-wise,' she tells MyDomaine. 'I tried to make everything go and pick a cohesive feel for the home. Now I go on instinct. It's more emotional. Unless you have something very distinct in your architecture, I think there's room to experiment and play. Picking things that you like instead of choosing a strict theme is the way to go. It tells a story. I sort of learned that the hard way.'"
"Decker oversaw a handful of renovations to the space, adding an office for Roddick, and redesigning the kitchen to accommodate for family entertaining. 'Aside from the construction, we did everything ourselves, we refinished and installed all the hardware, refinished the cabinets. Our builder is a good friend of ours. He came in and built the island, placed the marble, and built the shelving for us. We designed everything and tried to do as much of it on our own as we could, save for setting the marble, which would have been very dangerous seven months pregnant—seeing as I have no clue how to do it.'"
"The living room features a lofted, exposed-beam ceiling, limestone fireplace, and hardwood floors. It's the sort of all-American den that begs for cookouts and good old-fashioned sports viewing, which is precisely what Decker and Roddick had in mind. The couple professes to having an "open-door policy" with friends, often entertaining regular guests together their two bulldogs, Billie Jean and Bob Costas. Decker's chief concern in engineering the new space was targeted at selecting décor and fixtures with enough weight to sustain roughhousing and revelry."
"I live with a very masculine dude," she says of her husband. "He doesn't love anything too precious. The chairs in pink and orange are a bit more feminine, with vibrant colors." Decker collected vintage Mexican serape blankets, mostly sourced from Etsy, for months until she had procured enough to reupholster a full dining room chair set. When it's suggested that the bright hue doesn't fall squarely into super-feminine territory, she agrees. "It's a margarita pink. Everyone loves a margarita pink!" she says.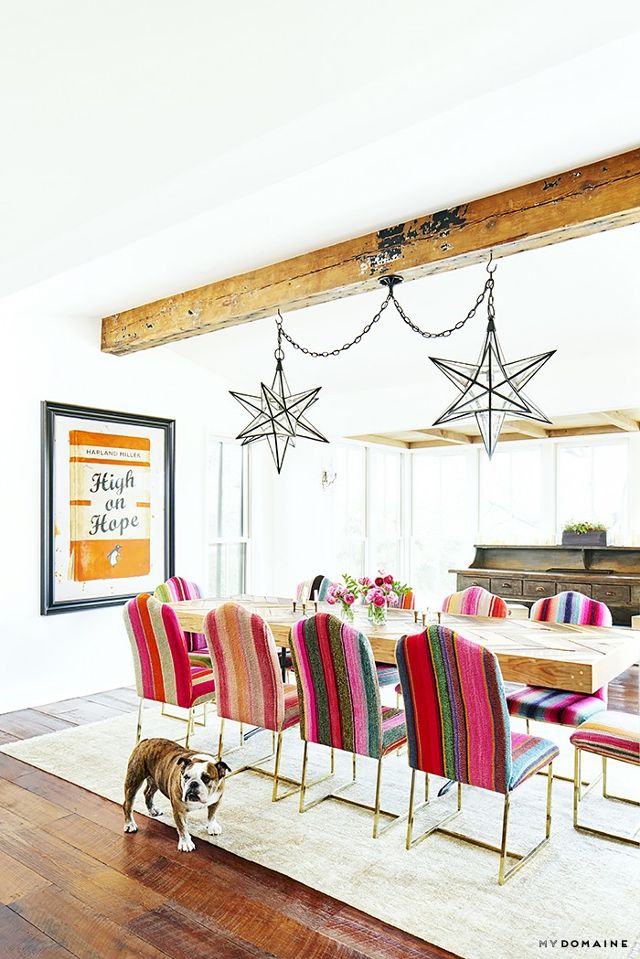 A proclivity for lush azure hues and expected materiality is evidenced in spades throughout Decker's closet. The walk-in space houses rows of denim interspersed with flowy designer creations and jewel-toned accessories. There's the same clever mix of high and low. Madewell jeans hang next to a petite candy apple–red Céline bag. An Olympia Le-Tan clutch happily doubles as art.
"The biggest challenge of this house was it is so traditional Texas ranch," she tells us. "How do you infuse youthfulness into it? How do you add color and quirkiness without taking away from the integrity of the house? Mixing those styles can be a bit complex," she muses. "I love traditional style. That continues to be the challenge with the house: infusing a little bit of life into something that is traditionally Texas."
As told to: My Domaine.
What do you think about Brooklyn's home décor style? Do you prefer casual country or cool modern? Share your thoughts on Brooklyn's décor and your favorites by leaving a comment below!
-The CGS Team