Apparently the U.K. beauty scene is on to something. We've known for a while that people are using bee venom to get visibly younger skin—and once Kate Middleton and Victoria Beckham shared that they use it, bee venom blew up!
In fact, Kylie Minogue and Gwyneth Paltrow are also fans of this miracle venom. So what exactly is bee venom and how does it work? The CGS Team did some research and we are pretty amazed by what we found!
Technically speaking, bee venom is a colorless liquid filled with proteins that is released by a honeybee's stinger. The venom causes inflammation at the point of contact. Bee venom can also act as a drug to help reduce blood clotting.
In beauty terms, bee venom is an ingredient used in cream or serum based facial products. When applied to the skin, the minimal effects of a light bee sting take place. Blood rushes to the face and stimulates the production of collagen and elastin, which firm skin.
So what are the benefits of bee venom on your skin? According to Makuna Doctor, who has their own line of bee venom products, bee venom can provide anti-aging and acne clearing results:
Anti-aging
Nurtures cell regeneration
Activates renewal of damaged skin cells
Reduces the appearance of scars
Treats and reduces fine lines and wrinkles
Aids collagen formation
Acne
Heals spots
Clinically proven to reduce the bacteria that causes spots / acne
Deep cleanses blemish-prone skin
Reduces oil and removes impurities, purifying skin
If bee venom works as well as the professionals say it does, then why not give it a try? Here are some bee venom products that can improve the quality of your skin. We are going to give them a try, and we suggest you do the same!
Nip + Fab Bee Sting Fix Cream Deluxe available at Ulta for $16.99
Anna's Pocket Bee Venom Vitality Cream Mask available at Amazon.com for $99 (affiliate link)</em
Beenigma All in One Face Cream available online at Beenigma for $97.50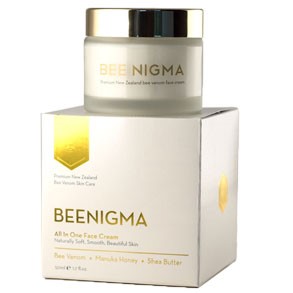 Related: 6 Products for Glowing Skin
Bee venom sounds crazy, but it's created a buzz in the beauty world! What do you think of this beauty ingredient? Have you tried bee venom products before? Do you have any experiences to share? Leave a comment below and let's talk!
-The CGS Team