How many of us have craved a nice warm meal after a long, hard day at work? I'm almost certain that's pretty much all of us! Cooking after a long eight-hour work day can seem tiring. Just the thought of standing over the stove to prepare a nice meal sounds exhausting, but it doesn't have to be with these quick and easy dinner ideas!
Preparing an enjoyable meal after working or going to school can be weary for those that just want something flavorsome and speedy. Don't fall into the fast food trap! There are quick, easy and tasty dinners you can whip up in a flash. Check out these eight quick and easy dinner ideas to try.
Cheesy Olive Bread
Cheesy olive bread is one of those dishes that don't require a lot of time, ingredients, or headaches.  When you have random grocery items in your fridge that you can't seem to think of what to make, don't worry, use them to make some cheesy olive bread! You won't be let down, and this meal can be consumed by itself or with a salad. Not a fan of olives? This cheesy bread tastes phenomenal with or without them. It will take around 10 minutes to prep this meal, and 25 to cook, that's 35 altogether until you can enjoy!
Ingredients
1 loaf French Bread
8 ounces, weight Pimiento-stuffed Green Olives
8 ounces, weight Black Olives
2 stalks Green Onions (scallions)
1 stick Butter, Room Temperature
1/2 cup Mayonnaise
1 lb Monterey Jack Cheese, Grated
Cooking Directions
Roughly chop both black olives and pimiento-stuffed green olives. Slice green onions into thin pieces. 
Combine butter, mayonnaise, cheese, olives and green onions in a mixing bowl. Stir together until thoroughly combined. Spread mixture onto French bread that has been sliced lengthwise.
Bake at 350ºF for 20 to 25 minutes or until cheese is melted and browning.
Lemon Fish in Butter Sauce
The Lemon fish in butter sauce will have you believing you're a chef in the wrong profession. This meal is simple, quick, and very affordable.  The ingredients to make this meal are not much, which is always a plus when you're rushing to whip something up.  Simply grab your favorite baking pan, throw your choice of fish along with some butter and other fixings, a few lemon slices, and there you have it! Dinner is served, your tummy is delighted, and most importantly, you didn't break a sweat.
Ingredients
1 lb Cod
1 tsp Salt
1 tsp Black Pepper
2 Tbsp Unsalted Butter
1 Lemon, thinly sliced
1/4 cup Tartar Sauce
1 tsp Primal Palate Garlic & Herb Seasoning, (sub: 1/2 tsp salt, 1/2 tsp pepper, to taste)
Cooking Directions
Preheat oven to 425 degrees.
Rinse cod under cool water and pat dry with a paper towel.
Place cod into an oven safe baking dish.
Sprinkle cod with salt and pepper.
Lay butter on top of the cod filets, two pieces of butter per four ounces of fish.
Lay lemon slices on top of the cod filets, two slices per four ounces of fish.
Bake cod, uncovered for 30 minutes.
Serve with Tartar Sauce
Curried Chickpeas with Spinach
Cooking dinner shouldn't be stressful or complicated, so with that being said, check out this curried chickpeas with spinach recipe that is going to blow your taste buds away. It's hearty, and healthy and sure to have you full and satisfied. If you don't like chickpeas, this dish can also go great with lentils as a substitute. It's full of flavor and great if you're craving something without meat. This gluten-free, vegan dish is great with rice or served alone. 
Ingredients
2Tbsp olive oil 
1small onion 
2cloves garlic 
1inch fresh ginger 
1 1/2Tbsp curry powder 
8oz spinach fresh or frozen 
15oz can tomato sauce 
29oz can chickpeas or lentils
Cooking Directions
Dice the onion, mince the garlic, and grate the ginger on a small holed cheese grater. Sauté the onion, garlic, and ginger in a large skillet with the olive oil over medium heat until the onions have softened (3-5 minutes).
Add the curry powder and continue to sauté with the onion mixture for one minute more. Add about 1/4 cup of water and to the skillet along with the fresh spinach and continue to sauté until the spinach has wilted. The water will help steam and wilt the spinach (no water needed if using frozen spinach).
Drain and rinse the chickpeas. Add them to the skillet along with the tomato sauce. Stir well to distribute the spices in the sauce and heat through (5 minutes). Serve over rice or with bread.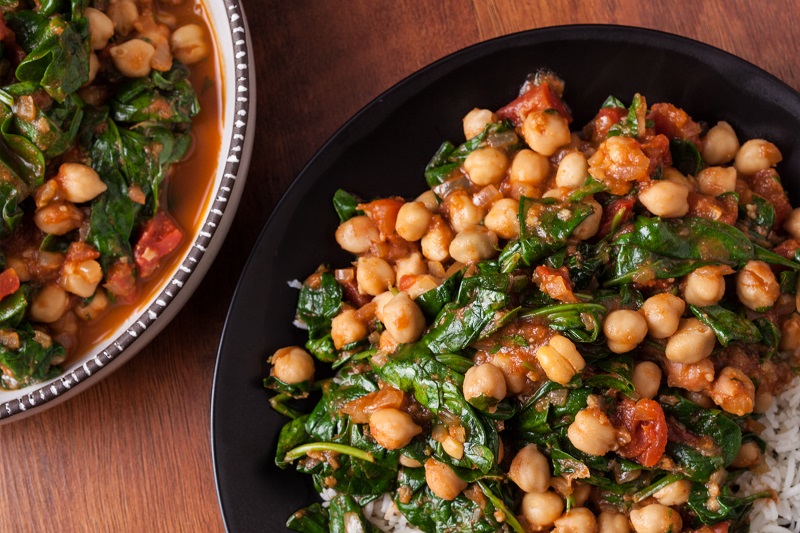 Spaghetti
Who doesn't love a good Italian dish? Well, I for sure can always go for some home cooked spaghetti! This dish is a must make when hungry and not in the mood for standing additional hours after working a long shift. Spaghetti is so fun to make and easy to do, you won't even notice the time passing. You can use your choice of noodles, and depending if you'd like to have meat included, you can prepare with turkey, ground beef, or sausages.
Ingredients
a box of spaghetti noodles
a jar of marinara sauce
1-2 pounds of ground beef or Italian sausage
two large pots, one for boiling the pasta and the other for making the sauce
salt
water
Cooking Directions
Combine ground beef, onion, garlic, and green pepper in a large saucepan. Cook and stir until meat is brown and vegetables are tender. Drain grease.
Stir diced tomatoes, tomato sauce, and tomato paste into the pan. Season with oregano, basil, salt, and pepper. Simmer spaghetti sauce for 1 hour, stirring occasionally.
Boil noodles until tender.
Serve.
Simple Fried Rice
Craving Chinese but don't want to call for take-out? This dish is very straightforward and trouble free to make. No need to worry about slaving over a hot stove with grease popping everywhere, this dish is a breeze to make. If you don't like poultry with your fried rice you can simply follow the cooking directions and exclude having to prepare any chicken or shrimp.  However you decide to make this dish, whether you prefer fresh ingredients or already prepared item that you can throw together this dish will take no more than 30 minutes to make. So get your items and prepare to have your weekly Chinese craving fulfilled and some!
Ingredients
1 cup rice
3 chicken breasts, cooked and shredded (I recommend slow cooker chicken teriyaki)
1 onion, diced
2 cloves garlic, minced
1/2 cup frozen peas
4 carrots, diced
2 eggs
3 tablespoons sesame oil (or you can substitute butter!)
1/4 cup soy sauce
Optional: sesame seeds
Cooking Directions
Prepare 1 cup rice with two cups water in a rice cooker or on the stovetop.
Meanwhile, heat sesame oil in a large skillet over medium heat. Add onion, garlic, peas, and carrots. Cook for 5-7 minutes.
Crack eggs into pan and scramble, mixing with vegetables.
Add rice, chicken, and soy sauce to pan. Stir to combine and remove from heat.
Lettuce Wraps
This perfect dinner dish will satisfy your PF Chang's crave, all without breaking your pockets. This meal can be prepped and served in less than 20 minutes. Lettuce wraps are low in carbs and can be prepared to your liking. Whether you enjoy ground turkey or beef, chicken, seafood or steak you can make what satisfies your taste buds. The ingredients are simple and can vary depending on what you're in the mood for.
Ingredients
1 tablespoon olive oil
1 pound ground chicken
2 cloves garlic, minced
1 onion, diced
1/4 cup hoisin sauce
2 tablespoons soy sauce
1 tablespoon rice wine vinegar
1 tablespoon freshly grated ginger
1 tablespoon Sriracha, optional
1 (8-ounce) can whole water chestnuts, drained and diced
2 green onions, thinly sliced
Kosher salt and freshly ground black pepper, to taste
1 head butter lettuce
Cooking Directions
Heat olive oil in a saucepan over medium high heat. Add ground chicken and cook until browned, about 3-5 minutes, making sure to crumble the chicken as it cooks; drain excess fat.
Stir in garlic, onion, hoisin sauce, soy sauce, rice wine vinegar, ginger and Sriracha until onions have become translucent, about 1-2 minutes.
Stir in chestnuts and green onions until tender, about 1-2 minutes; season with salt and pepper, to taste.
To serve, spoon several tablespoons of the chicken mixture into the center of a lettuce leaf, taco-style.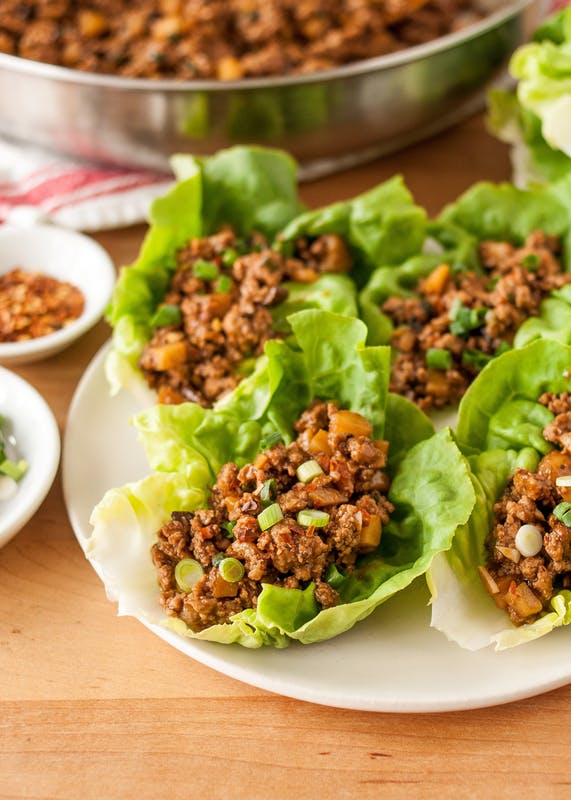 Chicken Fajitas
Chicken fajitas are fun and festive when you're in the mood for some Mexican food in a hurry. Fajitas are one of those cool dishes that you can prepare everything in one dish and eat at once. This low maintenance dish is a must prepare for any weekday hunger that needs to be satisfied quickly. This meal is filling and tasty all in one, and perfect for enjoying leftovers throughout the week. In nutshell chicken fajitas is great for fixing any person who wants to eat in a hurry.
Ingredients
Homemade Fajita Seasoning:
1/2 tsp each onion powder and garlic powder (Note 1)
1/4 tsp cayenne pepper (optional, adjust to taste)
1 tsp each cumin, paprika, oregano
3/4 tsp salt
1/4 tsp black pepper
Fajitas
3 chicken breasts (600 – 700g / 1.2 – 1.4lb)
3 tbsp lime juice
2 tbsp olive oil, separated
1 EACH red, green and yellow capsicum / bell pepper, medium size
2onions
Fixings
Small tortillas (corn or flour), warmed
Sour cream
Lime wedges
Fresh cilantro
Cooking Directions
In a large reseal able plastic bag, combine 2 tablespoons oil, lemon juice and seasonings; add the chicken. Seal and turn to coat; refrigerate for 1-4 hours.
In a large skillet, sauté peppers and onions in remaining oil until crisp-tender. Remove and keep warm.
Discard marinade. In the same skillet, cook chicken over medium-high heat for 5-6 minutes or until no longer pink. Return pepper mixture to pan; heat through.
Spoon filling down the center of tortillas; fold in half. Serve with cheese, taco sauce, salsa, guacamole and sour cream. 
Sweet Potato, Shrimp, & Kale Skillet
This four-ingredient dish is really easy to make! The skillet dish is perfect for making during the week night and tastes great if you have left overs for lunch the next day. The longest thing about cooking this dish is making sure the sweet potatoes are complete, and that usually takes about 15 minutes, at the max.  All you'll need to bring this dish from picture to plate is fresh shrimp, kale leaves, sweet potatoes, garlic cloves, and diced onion. Combine all the ingredients together and viola, dinner is served!
Ingredients
2 tbsp extra-virgin olive oil
½ cup onion, diced
A pinch of crushed red pepper, to taste
2 garlic cloves, minced
2 cups sweet potatoes, diced
2 cups fresh shrimp
3 cups trimmed and coarsely chopped kale leaves
Salt and ground black pepper
Cooking Directions
In a cast iron skillet, add the extra virgin olive oil over medium heat.
Add onions and crushed red pepper.
Cook until onions are soft and golden.
Add garlic and cook for about 30 seconds.
Add sweet potato and cook until soft. In case you need, add a few tablespoons of water or 1/4 cup to help steam the sweet potato.
Add shrimp and cook for 2-3 minutes, or until they turn pink.
Turn the heat to low and add kale, stirring until wilted.
Season to taste with salt and pepper.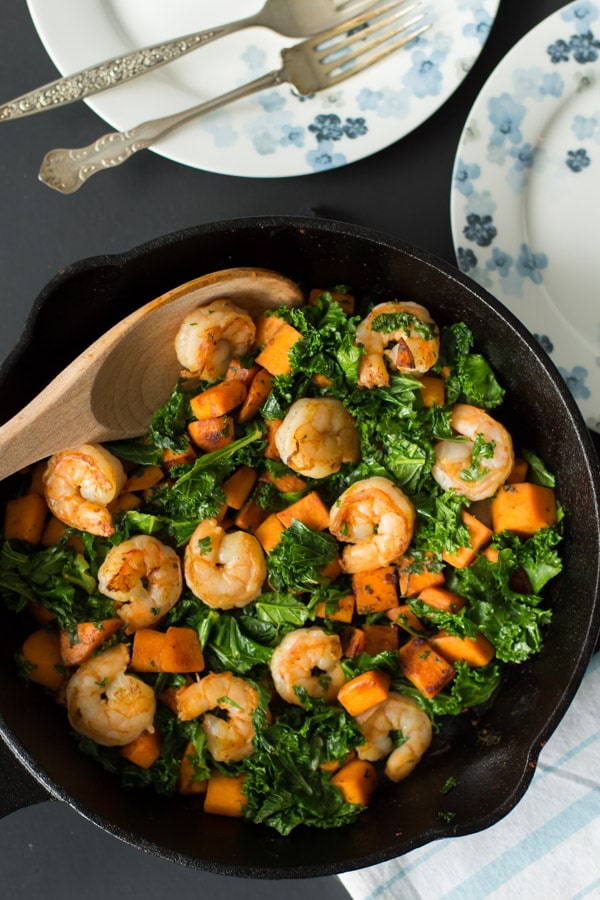 Say farewell to those cold salads and played out TV dinners, and start welcoming these tasty quick and easy dinner ideas. Dinner doesn't have to take up all your time and you won't have to worry about it not tasting amazing either. Let us know how these simple recopies worked for you, we're sure you won't be let down.
-Taelor
The CGS Team