There have been trends of having nude shades of beauty and having shades that stand out. What better way to stand out than to try some of the hottest neon products out? Of course, it can be intimidating at first, but once you find the perfect color to match your energy, I'm sure you'll be hooked. Neon beauty products are making a hit, and we couldn't be more excited! Check out these 6 awesome neon beauty products we found across the pond located in the UK and thrilled to share with you.
Polish
Who said your hands have to be left out of the party? The Neon nail polish collect are brilliant and bold all in one. The shades are all very dazzling and come with different effects that will leave your friends wondering just where you got look from. The polish comes in a UV Nail varnish, UV Glitter Nail Varnish or a Glow in the Dark Nail Varnish. With similar bold color hues your nails are bound to leave a statement.
Lipstick
Make your own lane and stand out from the rest with a pop of color on your lips. Moon Glow has an amazing line of different colors that speak all for themselves. Although, all Moon Glow products are made in the UK this trend is taking the States by storm. A few of the lip products even have a UV glow that looks ultra-cool under black lighting. To remove the lip color simply wipe off using a make-up remover wipe, which is no hassle at all.
Eye Shadow and Liner
Neon eye shadows and eye liners are so much fun to play around with. You instantly feel a sense of confidence once you've applied them to your eyes. With tons of different shades to choose from, the options are endless. Whatever color you're feeling, you won't have a problem finding it in a neon color. Neon eye shadows and liners are perfect for adding a pop excitement to any event!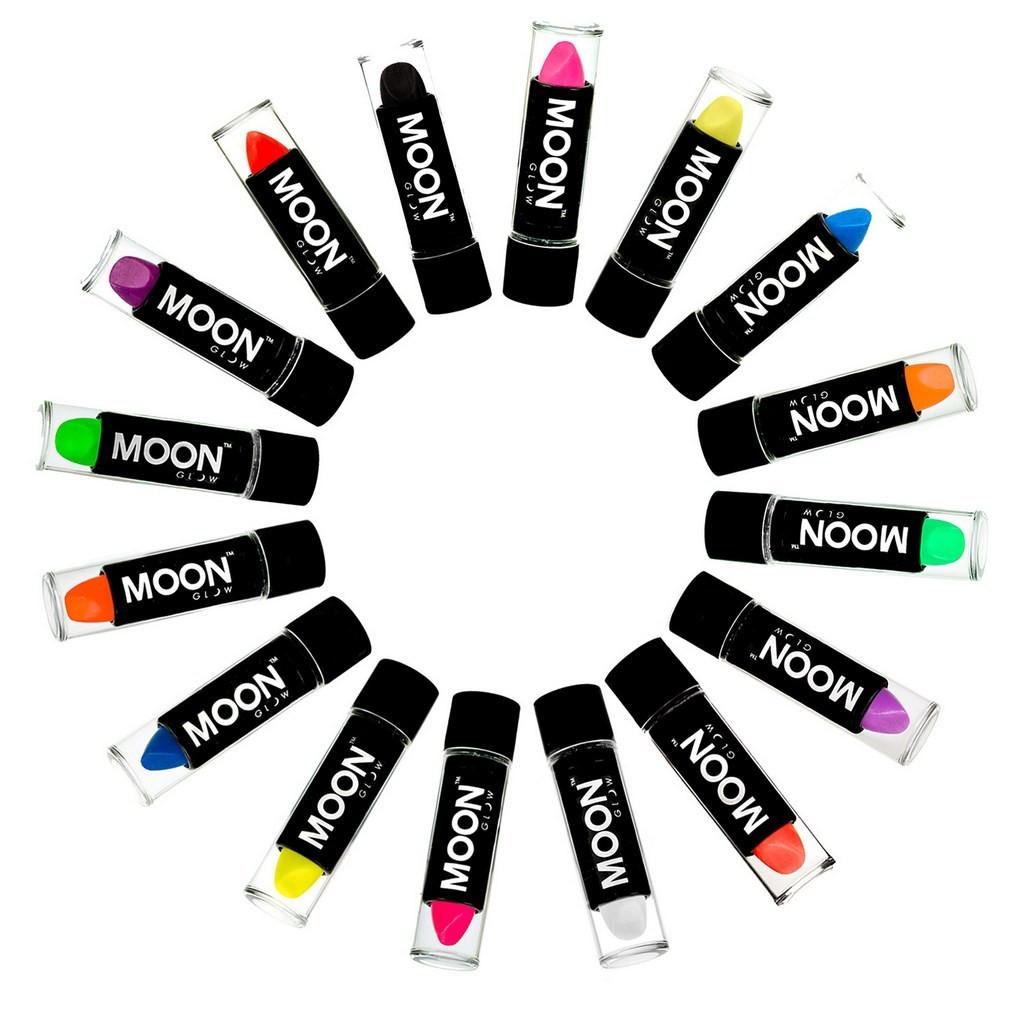 Glitter
When the thought of glitter comes to mind, nothing but excitement should cross your beautiful face. Glitter makes everything better, and we can't deny it! The Neon UV glitter can serve as a variety of beauty alternative products. Moon products are one of UK's biggest neon beauty sellers!
To apply first remove the foil tip. Apply to skin using fingers, a brush or sponge. Avoid contact with eyes. Add more layers (once dry) to increase the glitter coverage. After use, simply remove using soap and water. This glitter of gold literally gives the best enhancement to any make up trend around.
Hair
The Neon UV chalk hair product is mind-blowing. It's easy to apply and even easier to remove from your hair without damaging it. If you're interested in a change and adding some vibrancy to your hair do, then we definitely recommend trying this hair product.
Simply, peel back adhesive on sponge and affix to inside of lid. Close lid to color the sponge. Take desired strand of hair, hold between sponge and color and pull downwards from the top to color the hair. Apply to slightly wet hair for best results. After use, simply remove using shampoo and water.
Body
We are almost certain everyone has heard of glitter body moisturizer. It moisturizes your skin while leaving a glittery tone aftermath. When using this neon beauty product it fashions a stunning glitter effects wherever you apply on your body. The UV glitter shakers are bright neon colored under natural lighting, they fluoresce spectacularly under UV which produces an incredible UV Glow. Mix it with your favorite moisturizer and you'll be left feeling and looking sparkly.
Neon can be fun and super cool to play around with. If you have any festivals coming up, then these beauty products are must have for you. Have you ever played around with any neon beauty products? If so, which products are your favorites? Stay up to date with us by following our other social media accounts IG & Twitter @citygirlsavings. Also, follow and comment on our Facebook page to keep up with the latest from the City Girl Savings community.
-Taelor
The CGS Team