Whether you work from home or go into the office every day, there's no doubt in my mind that you have a workspace. Be it a standing desk, a mini table, a regular desk or a cubicle, you have some station designed for work. Me personally? I have a home office and a rented office. Each of those spaces have a desk and that means those desks need organization!
There have been times in the past where my desk is filled with clutter. It becomes my own personal storage space – only to the detriment of my mental stance! Seriously. Clutter makes me feel scattered and discombobulated. Now, I make it a point to always keep my desk clean and tidy, with the help of some accessories. Keep reading for 5 accessories that keep my office desk organized!
5 Accessories that Keep My Office Desk Organized
#1 Desk Calendar
I blame my mom, but I love a good desk calendar! When I was younger, she would bring me calendars home from her job. I've been using them for years! While my planner and phone calendars are my top tools for managing my time, having my desk calendar keeps me aware as well.
I usually purchase my desk calendars from TJ Maxx or Amazon. For 2022, I purchased a marble and gold design! I like to switch up the design every year but making sure they have a Notes section is definitely a must!
#2 Pineapple Pen Cup
When the need to take notes happens, it usually comes fast! Sometimes I can type up a quick note, other times I need a pen and sticky pad! I have a gold pineapple pen cup on my desk with pens handy at all times. I even have a gold pen cup with pens on my desk at the CGS office!
Here's a picture of my desk at home, you can see quite a few accessories from this list are in the picture!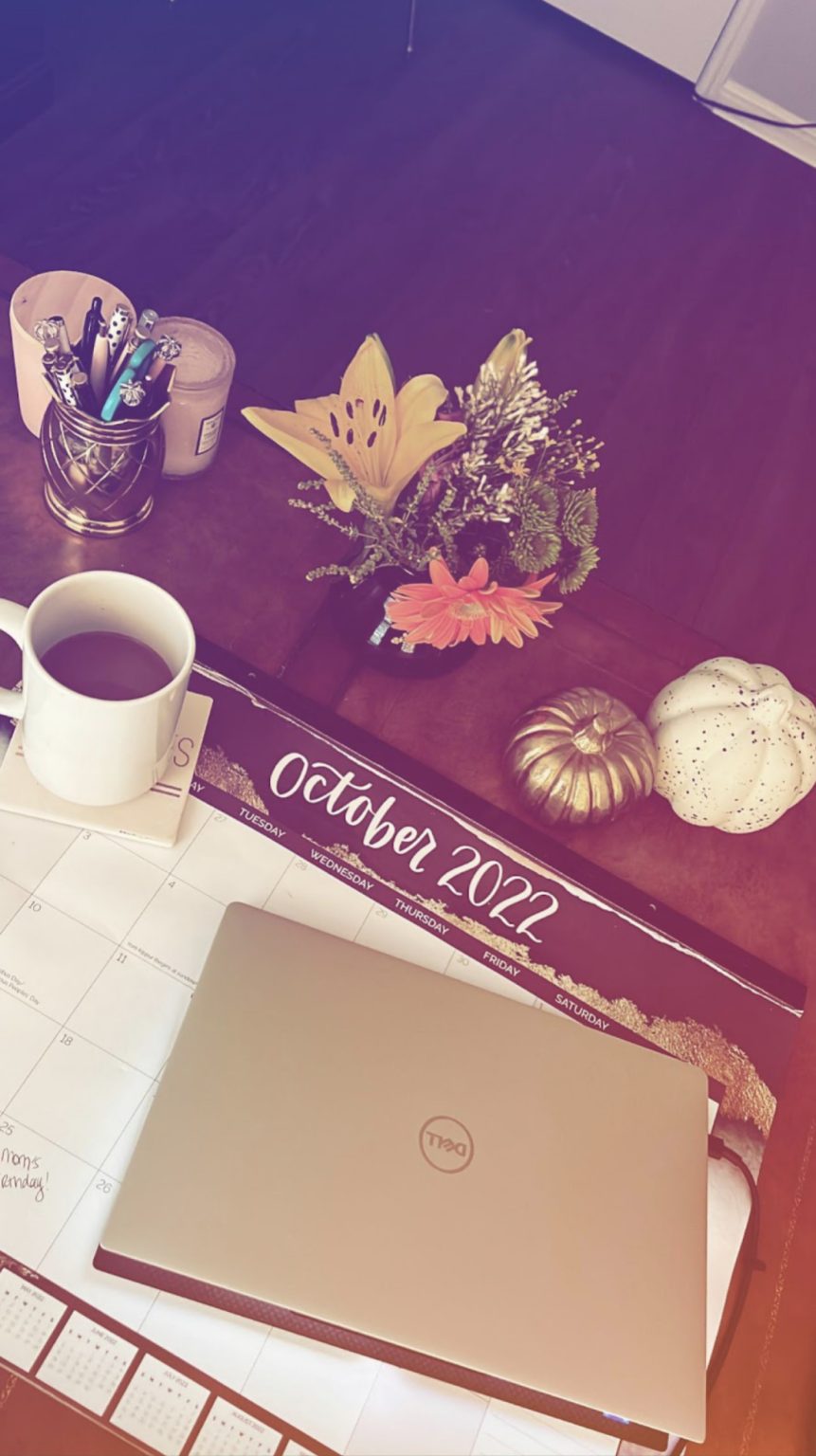 #3 Cute Coasters
If you know me, then you know I love my iced coffees. However, my desk at home is made of real wood and I can't have any water damage! I ended up getting a pair of trendy coasters from At Home with inspirational quotes. One says "I want it all" and the other says something inspirational as well (I can't remember right now!).
#4 My Simplified Planner
I mentioned my desk calendar keeps me aware of what's going on, but my physical planner is my true go-to! I use the Simplified Planner by Emily Ley and absolutely love it. I've been using her planners for the past five or six years and I can't get enough! I use the daily version, which allows me to know exactly what the upcoming days and weeks have in store.
#5 Candles
Okay, okay! Candles aren't really used for organization but having them on my desk makes me feel so good! I have candles with adorable designs that I never light. I also have candles with my favorite scents that I light on the regular. Having a candle going while you're working adds such a nice touch!
Related: 7 Trendy Office Supplies and Décor Items
Thanks to taking the time to piece together items that help me stay organized, when I sit down at my desk, I'm ready to work! I'm in full productivity mode. Obviously, I'm human and sometimes still have a habit of adding additional things to my desk, but they don't last long!
Set your desk (or workspace) up for success and you'll be ready to get things done! Do you have any accessories on your desk or work station? How do you keep your desk clean? Share your tips and product favorites in the comments section below!
-Raya
The CGS Team