Let's be honest, if there could be a team of super hero women to protect the earth, we're certain Oprah would be a part of that squad. From having her own daytime talk show to eventually owning her own magazine and production company, is there anything this woman can't do? Oprah has spoken existence into people's lives through the screens of our televisions. She has interviewed some of the hottest people all over the world, and has provided amazing health tips to keep us in tip-top shape. The CGS team is taking us back in time to remind you just how awesome Oprah really is.
Oprah Opens a School for Girls
Oprah wanted to give back to the community and what better way to give back than through education. She opened a school in South Africa for disadvantaged girls back in 2007. The school includes 28 building which house computer and science labs, a library, theater, and a health center for the students to go to.
The school can accommodate at least 450 girls. Oprah who grew up in an underprivileged area as a child wanted to change the future for other children who also live in poor areas. She vowed to open a school and with the help of others she accomplished just that.
Oprah's Car Give-Away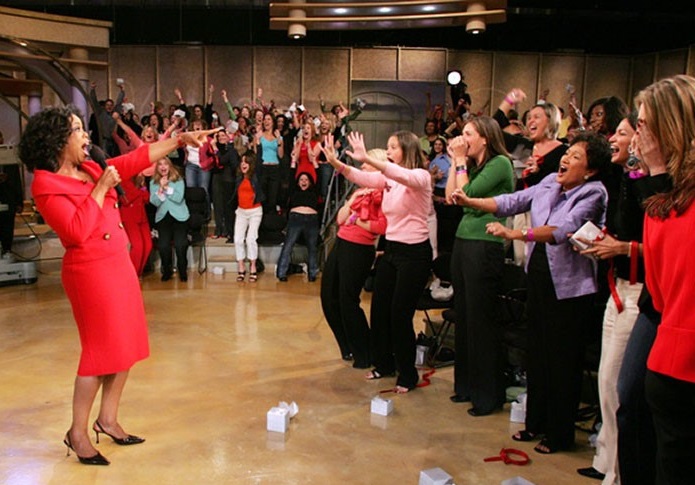 Everyone remembers the first time Oprah gave everyone in her audience a new car! She is famously quoted saying "You get a car, you get a car, everybody gets a car!" This had to have been one of Oprah's many kick butt moments. During her daytime television show, Oprah happily gave away brand new Pontiac G6s to all 276 members of her studio audience during a 2004 taping.
Before audience members even knew they were going to be new car owners, Oprah had given everyone a box with a key to their new car inside. Unknowingly the audience members didn't know what was inside, until Oprah had them open it. Are you wishing you were there, like we are?!
Oprah is nominated
Although Oprah has become a household name, she actually starred in several movies. But, it was her role in the critically-acclaimed film The Color Purple that got her the Oscar nomination. She was nominated for best supporting actress for her incredible role as Sofia.
Steven Spielberg was the director, and many A- list celebrities were involved in the film. Anything Oprah puts her mind to it seems as if she achieves it and some. There is nothing she can't do, without doing with excellence. Although she didn't win the Oscar, she went on to show that anything can be accomplished.
Oprah Graces Vogue's First African-American Actress Cover
Lastly, but only because we couldn't fit all of the amazing kick butt things Oprah has done, Oprah appearing on the cover of Vogue Magazine wraps up our list. Oprah appeared on the cover of Vogue magazine in October 1998, and she was the first African American screen star to appear on the cover of the American Vogue. The issue coincided with her dramatic weight loss and her successful acting debut in the movie Beloved. The film was based on Toni Morrison's Pulitzer Prize-winning novel about a former African American slave visited by the ghost of her dead daughter.
Oprah is a legend of our time! Through all of her hard work and efforts, Oprah is by far one of the most influential women in this day and age, and it's very well deserved. What is your favorite Oprah moment and why? Leave a comment below to share. Don't forget to check out our Facebook page, we're always engaging with the community through our social media accounts. Also, follow our Twitter and Instagram accounts!
-The CGS Team