Did you know that eating black-eyed peas on New Year's Eve is said to bring you good luck in the New Year? Whether it's true or not, why not try to bring a little extra luck on your side! We're sharing 3 tasty black-eyed pea recipes for you to consider whipping up on New Year's Eve!
Spicy, Slow Cooker Black-Eyed Peas
We are huge fans of putting the good 'ol crockpot to use! Try this slow cooker recipe for your black-eyed peas to give them a spicy kick!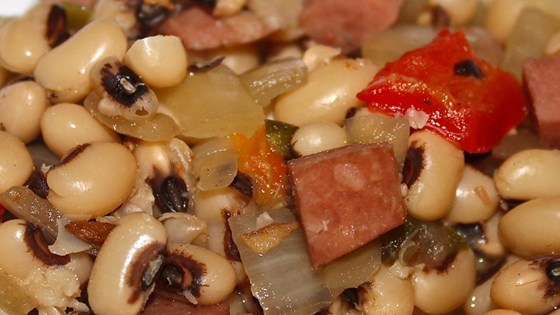 Time: 6 ½ hours; Servings: 10; Calories: 199
Ingredients:
1 cube chicken bouillon
1 pound dried black-eyed peas, sorted and rinsed
1 onion, diced
2 cloves garlic, diced
1 red bell pepper, stemmed, seeded, and diced
1 jalapeno chile, seeded and minced
8 ounces diced ham
4 slices bacon, chopped
1/2 teaspoon cayenne pepper
1 1/2 teaspoons cumin
Salt, to taste
1 teaspoon ground black pepper
Instructions:
Pour the water into a slow cooker, add the bouillon cube, and stir to dissolve. Combine the black-eyed peas, onion, garlic, bell pepper, jalapeno pepper, ham, bacon, cayenne pepper, cumin, salt, and pepper; stir to blend. Cover the slow cooker and cook on Low for 6 to 8 hours until the beans are tender.
Black-Eyed Pea and Jalapeno Salsa
Need a quick appetizer for your NYE shindig? This simple salsa recipe will be ready in a jiffy, just get some chips!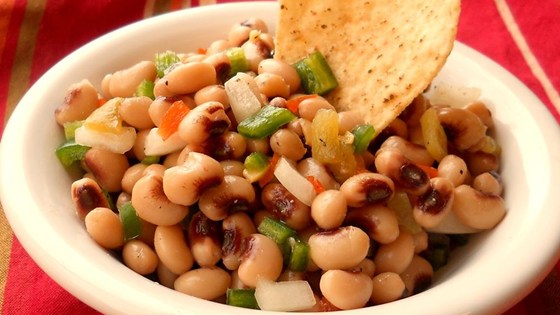 Time: 10 minutes; Servings: 40; Calories: 36
Ingredients:
1 (15.5 ounce) can black-eyed peas
1 cup chopped pickled jalapeno peppers
1 (4 ounce) jar pimento peppers, drained and chopped
1 (8 ounce) jar mushrooms, drained and diced
1/2 cup chopped celery
1/2 cup chopped onion
1/2 cup olive oil
Salt and pepper to taste
Instructions:
Mix the black-eyed peas, jalapeno peppers, pimentos, mushrooms, celery, onion, and olive oil together in a bowl. Season to taste with salt and pepper.
Marinated Black-Eyed Pea Salad
Another unconventional take on black-eyed peas, try a zesty salad!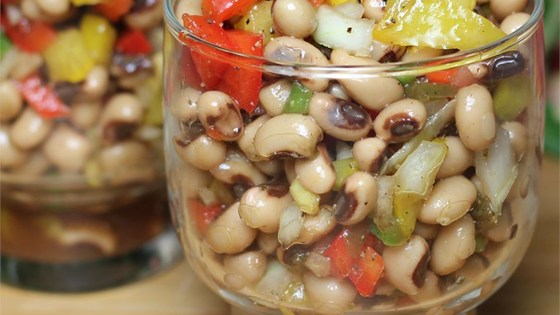 Time: 3 ½ hours; Servings: 14; Calories: 143
Ingredients:
1 yellow bell pepper, finely chopped
1 red bell pepper, finely chopped
1/2 onion, finely chopped
2 jalapeno chiles, seeded and finely chopped
4 (15 ounce) cans black-eyed peas, rinsed and drained
2 tablespoons chopped fresh parsley
1 clove garlic, minced
1/2 cup red wine vinegar
2 tablespoons balsamic vinegar
1/4 cup olive oil
1/2 teaspoon ground cumin
1 teaspoon salt
1 teaspoon ground black pepper
4 slices cooked bacon, crumbled
Instructions:
1) Mix the yellow and red peppers, onion, jalapeno chiles, black-eyed peas, parsley, and garlic together in a large bowl.
2) Whisk the red wine vinegar and balsamic vinegar together in a small bowl. Gradually add the olive oil, whisking constantly to thoroughly blend with the vinegars. Stir in the cumin, salt, and black pepper. Pour the dressing over the vegetable mixture, tossing to coat evenly. Cover and refrigerate 3 to 4 hours. Just before serving, stir in the crumbled bacon.
Whether you like your black-eyed peas cold or warm, there is a recipe for you! Is it a tradition for you and your family to have black-eyed peas for the New Year? What are some of your favorite black-eyed pea recipes? Post a comment below to share your thoughts!
-The CGS Team